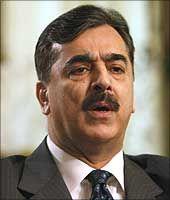 Pakistani Prime Minister Yousuf Raza Gilani on Monday asked India to return to the composite dialogue that was stalled after the Mumbai attacks nearly a year ago, saying it is a "win-win process" that could ensure peace in the region.
"We view the composite dialogue as a win-win process that advances the cause of peace in this region. It is our sincere hope that India will once again view this process as having immense potential for the mutual benefit of both the countries," he said.
Speaking at a rare joint session of both houses of parliament after an address by visiting Turkish Prime Minister Recep Tayyip Erdogan, Gilani said, "We are committed to a serious, sustained and constructive across-the-board engagement with India for the settlement of all disputes, including Jammu and Kashmir."
India put the four-year-old composite dialogue on hold in the wake of the Mumbai attacks, during which 10 terrorists belonging to the Pakistan-based Lashkar-e-Tayiba killed nearly 180 people.
New Delhi has linked the resumption of dialogue to Islamabad taking action against elements linked to the attacks, including LeT founder Hafiz Mohammad Saeed.
Pakistan has arrested seven suspects, including LeT operations commander Zakiur Rehman Lakhvi, for alleged involvement in the attacks. However, it has ruled out action against Saeed, saying there is no evidence against him.
Image: Pakistani Prime Minister Yousuf Raza Gilani