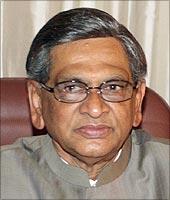 Union External Affairs Minister S M Krishna has asserted that the main agenda of his meeting his Pakistani counterpart Shah Mehmood Qureshi in New York would be to pressurise Islamabad in taking action against perpetrators of the Mumbai terror attack.
Krishna said this while speaking to media persons at the Turkish capital Istanbul during his visit to that country on Friday.
"I cannot spell out what exactly I can expect from such meetings. But this much I can assure that my attempt would be to impress upon the Pakistan foreign minister the desirability of taking action against the brains behind the Mumbai attack," said Krishna.
The foreign ministers of India and Pakistan and diplomats of the two nuclear-armed rivals are scheduled to meet in New York next week on the sidelines of the 64th session of the United Nations General Assembly.
Krishna further said that Islamabad should book Hafiz Mohammad Saeed, founder of the banned Lashkar-e-Tayiba group for masterminding last November's assault on Mumbai in which more than 166 people were killed.
"He has been leading the anti-India head campaign and he is the patron saint of the Lashkar-e-Tayiba. I would have appreciated Pakistan government if they had proceeded against Hafiz Saeed for his role on the attack on Mumbai," added Krishna.
The police in Faisalabad have lodged two cases against Saeed this week for delivering a speech to his supporters last month in which he called for the launching of a jihad and appealed for funds for his Jamaat-ud-Dawaah charity.
Saeed was not available for comment but a spokesman for him said the authorities were acting under pressure from India and that Saeed was in Lahore.
Meanwhile, Pakistan's President Asif Ali Zardari has said that he was unaware of the specific details of the case, but added that Saeed's arrest illustrated "our (Pakistan's) determination to prosecute anybody and everybody who is inclined towards the aggressive mindset".
"As far as Hafiz Saeed is concerned, the investigation officer would know much more than the president of Pakistan, I assure you of that. So what do we have against him? I do not know. The fact that he has been picked up, yes, that is true. That is our determination to prosecute anybody and everybody who is inclined towards the aggressive mindset," said Zardari.
Ahead of the meeting, the Pakistani police said they planned to arrest an Islamist leader wanted by India.
Zardari, while addressing a gathering at the International Institute of Strategic Studies in London, called for greater dialogue with India to increase regional security. He expressed a willingness to revive a dialogue with India ruptured by last November's assault by Pakistan-based militants on Mumbai.
"We believe that regional dialogue and cooperation is the way forward. With India, after the Mumbai attacks, we have had bilateral engagements at leadership level. The next round of talks will take place in New York. Pakistan is convinced that revival of the composite dialogue process is necessary and in the mutual interest of the two countries. We also believe that meaningful progress towards resolution of the Kashmir dispute is necessary for durable peace and stability in South Asia," said Zardari.
Pakistan has put on trial five militants accused of involvement in the attack in which 166 people were killed. It has released photographs of 13 other suspects who have not yet been detained.
But India, which broke off peace talks launched in 2004 with Pakistan following the terror attacks blamed on the LeT, has complained that Islamabad is not moving fast enough in pursuing those responsible.
Image: External Affairs Minister S M Krishna