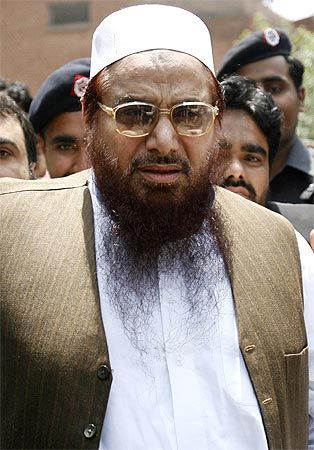 Under pressure from India and the United States to act against Jamaat-ud-Dawah chief Hafiz Mohammad Saeed, the mastermind of Mumbai terror attack, the Pakistani police today registered cases against him and one of his close aides Abu Jandal under the Anti-Terrorism Act.
A senior police officer told PTI late tonight that three First Information Reports – two against Saeed and one against Abu Jandal – were registered at police stations in Faisalabad, some 100 km from Lahore, for allegedly inciting people to wage 'jehad' (holy war) against "infidels".
The cases were filed in connection with Saeed's visit to Faisalabad on August 27 and 28.
The officer, who did not wish to be identified, said Saeed had attended Iftaar dinners and held a meeting with activists of his banned organisation during which he asked the people to wage a jehad.
Saeed, also the founder of banned Lashker-e-Taiba, has been blamed by India for masterminding the Mumbai terror attacks.
The police action against Saeed comes days ahead of a proposed meeting between the Foreign Ministers of India and Pakistan on the sidelines of the UN General Assembly in New York.
Addressing the gatherings, Saeed reportedly highlighted the importance of jehad and incited his followers to wage war on infidels.
"Saeed had also sought donations from the gatherings for jehad," a source said.
Sources said the first congregation addressed by Saeed in Faisalabad was held at a hotel on Canal Road and was attended by a large number of people. The second was held at the residence of a JuD activist on Jaranwala Road, they said.
"Abu Jandal held a separate meeting and preached jehad," a source said.
Following these meetings, officials of the Special Branch of Punjab Police filed applications for registering cases against Saeed. Police were given a "green signal" from authorities for registering cases against Saeed and Jandal under the Anti-Terrorism Act.
Photograph: Reuters