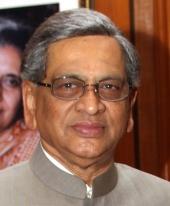 Accusing Pakistan of not being serious about punishing the perpetrators of the Mumbai terror attacks, External Affairs Minister S M Krishna on Saturday said India has provided enough evidence for their prosecution.
He also made it clear that Pakistan was to be blamed for the suspension of the composite dialogue, after the terror strikes on Mumbai in November last year, and said it has to take the initiative for the resumption of the process.
"According to legal experts, the six dossiers which we have provided to Pakistan contain enough evidence against the conspirators, abettors and perpetrators of the Mumbai terror attacks to get them punished in a court of law," he said.
"If Pakistan were to be serious about taking the logical steps to punish those responsible for the attack on India or Mumbai, this is an instance that they can show to the world and India that they are serious," he said.
The minister said India has given to Pakistan the names and other details of those involved in the strikes in Mumbai. "It is but natural that they should arrest all those people and bring them to justice," he said.
Krishna said New Delhi will keep engaging Pakistan on the 'logical follow up' that should be taken. "We expect that it will be done," he said.
Asked about Pakistan Foreign Minister Shah Mahmood Qureshi's remarks that India is not coming forward for resumption of talks, Krishna said, "India was happily continuing with its composite dialogue till the Mumbai attacks which abruptly ended, temporarily, the composite dialogue".
"So, I think Pakistan has to blame itself for the suspension of the composite dialogue and again it has to be Pakistan's initiative now to satisfy India's requirement for the resumption of composite dialogue," he said.
The minister said India is fully aware that Pakistan is the "epicentre of terror in this region". This, he said, has been brought to the notice of Pakistan as well as friendly countries.
On a question about incursion by a Chinese helicopter in Leh sector recently, Krishna sought to downplay the incident, saying there was an in-built mechanism to deal with such issues. "Whenever these take place, this mechanism comes into operation and things are settled," he assured.