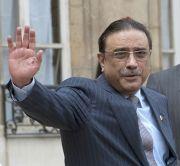 Pakistani President Asif Ali Zardari has reiterated that Islamabad is ready to cooperate with New Delhi to bring the Mumbai attack perpetrators to justice.
In an interview with a Pakistani English daily, Zardari said Pakistan would not allow its soil to be used against India.
"Pakistan is ready to cooperate with India to punish the perpetrators of terror attacks in Mumbai. Pakistan has assured that it would not allow its territory to be used against India for any acts of terror," The Nation quoted Zardari, as saying.
He said resumption of bilateral talks was very important, as only then both countries would be able to counter problems facing the region.
"In our view, the resumption of a sustained engagement and dialogue with India could ally each other's concerns. Both Pakistan and India need to avoid hostile propaganda and confrontation against each other," Zardari said.
He said Pakistan's concerns regarding different issues were genuine and stressed that India should also reciprocate and address those.
"Dialogue is the only way forward; absence of dialogue leads to tension," Zardari added.
Image: Pakistani President Asif Ali Zardari