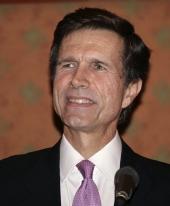 Even as Home Minister P Chidambaram began a series of meetings with senior United States officials to urge Washington to put pressure on Pakistan -- to take firm action towards dismantling the terror infrastructure in that country and prosecute the terrorists involved in the attack on Mumbai -- the Barack Obama administration's point man for South Asia tossed the ball back squarely into the Indo-Pakistan court.
Assistant Secretary of State for South and Central Asia Robert Blake was asked pointedly by rediff.com to respond to a growing perception that Pakistan was hedging on punishing the terrorists behind the Mumbai terror attack and the US was backing off from applying too much pressure on Islamabad because of its strategic interests,
Blake said, "First of all, let me say these are really a very complicated set of issues that in the first instance are for India and Pakistan to resolve between them."
He was speaking during an interaction that followed his inaugural address that kicked off the fall programme of the South Asia Programme of the John's Hopkins University's School of Advanced International Studies.
"We have been very encouraged by the significant meetings that have already taken place -- I mentioned the summit meeting that took place between the prime ministers (Manmohan Singh and Pakistan Prime Minister Yusuf Raza Gilani) at Sharm-el-Sheikh in July," he said.
India has asserted that it will not resume composite dialogue unless and until Pakistan takes clear and unambiguous steps to prosecute the terrorists responsible for the 26/11 carnage.
Blake nonetheless noted that "there have been a number of other meetings at various levels -- the foreign secretary level, the foreign minister level and other meetings -- and of other meetings I understand (will take place) on the margins of the United Nations General Assembly."
"So, we hope that the two countries will be able to make progress -- and the progress that is needed is first to bring the Mumbai suspects that are already in custody to trial and to prosecute them and then also to stop cross-border infiltration, so that there's not another attacks such as what happened in Mumbai," he said.
Blake said it would be "that kind of progress that will have to be the basis for resumption of the sort of confidence building measures. So, I think there's a way forward and there are some significant positive opportunities here that we hope the two countries can seize on."
When pressed  on what the US was doing to pressure Pakistan to crack down on the terrorist infrastructure operating on its soil, Blake reiterated, "This is something that is up to the government of Pakistan to decide -- when to take these steps -- but it is certainly in Pakistan's own interests."
"As I said earlier, we think that Pakistan has already made important progress in the Swat Valley and in South Waziristan and most importantly, the Pakistani people have supported that progress," he added, and argued, "this has won the elected civilian government more support from them and therefore suggests that momentum can be sustained against all of the terrorists that are based in Pakistan."
Blake said, "That's what we and that's what the Indians and that's what the Pakistanis want to see. And, so, for the first time in a long time, we have a common interest in that."
Earlier, in his prepared remarks, in the speech titled 'The Obama Administration's Policy on South Asia', on the specific subject of India-Pakistan relations, Blake said, "An important part of a successful strategy in Afghanistan and Pakistan will be for India and Pakistan to restore relations to the levels of cooperation they enjoyed between 2004 and 2007."
"It is useful to recall the progress that was made during that period," he said, and recalled, "Beginning in 2004, President Pervez Muharraf met with then Indian Prime Minister Atal Bihari Vajpayee and pledged that Pakistan would not let territory under its control be used to support terrorism."
Blake said, "That pledge provided the basis for the two countries to undertake a series of confidence building measures through a composite dialogue between foreign ministries."
He noted that these discussions were frozen following the Mumbai attacks, "But to their credit, both countries continued political-level talks, the most important of which was a meeting between prime ministers Singh and Gilani in Sharm-el-Sheikh on July 16," he pointed out.
The senior US official said, "Both countries must now undertake a sequenced series of actions to rebuild confidence and cooperation. Such actions must include progress by Pakistan to prosecute those responsible for the Mumbai attacks and concerted efforts to stop militant infiltrations across the Pakistan-India border."
"In response," Blake pointed out that "India has indicated it is prepared to restart confidence building measures," and as he had emphasised in an earlier exclusive interview with India Abroad -- the US newspaper owned by rediff.com, Blake said, "One significant opportunity would be in trade. Bilateral commerce between India and Pakistan is only slightly more than $2.1 billion. To provide a comparison, trade between China and Indonesia, two countries of roughly comparable sizes which do not enjoy the benefit of a common border, is approximately $30 billion."
He said "this provides some indication of the immense potential to expand trade between India and Pakistan."