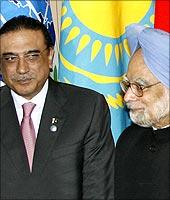 The Pakistan Muslim League-Nawaz has said that Islamabad [ Images ] should not beg New Delhi [ Images ] for talks.
"We should tell India [ Images ] that if they are not ready for talks then Pakistan is also not eager to enter any talk process," Leader of the Opposition Chaudhry Nisar Ali Khan told the House in categorical words.
Chaudhry Nisar was referring to the talks between Prime Minister Manmohan Singh [ Images ] and his Pakistani counterpart Yousuf Raza Gilani [ Images ].
He harshly criticised the Indian leadership and its parliament for raising objections and criticising the decision of the Lahore [ Images ] High Court regarding the release of Hafiz Saeed [ Images ].
"We have an independent judiciary and the Indian government or its parliament has no right or justification to point a finger on its verdict," The News quoted him as saying.
Image: A file photograph of Pakistan President Asif Ali Zardari [ Images ] with Prime Minister Manmohan Singh | Photograph: Reuters