Leh toll rises to 165; 81 foreigners rescued
Last updated on: August 9, 2010 22:14 IST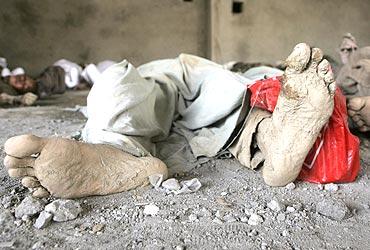 Rescue and relief efforts were going on at war-footing in cloudburst-hit Leh region, as 81 foreigners and six tour guides were on Monday rescued by the Air Force from Zanskar Valley. The death toll has mounted to 165 and 400 others remain missing.
Till now, 150 of the dead have been identified, official sources said, adding that the victims include a Romanian woman, 15 Nepalese nationals and two Tibetans.
Two French nationals and a Spaniard were yet to be traced, they said. The IAF carried out a record 62 sorties by Chetak helicopters in five-and-a-half hours to bring back 81 foreign campers and six tour guides from the 11,000-feet high Zanskar Valley.
Sniffer dogs join rescue operations
Last updated on: August 9, 2010 22:14 IST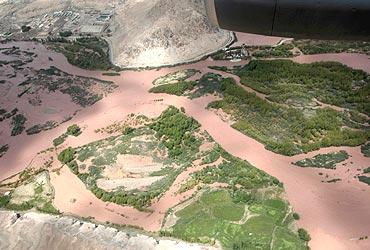 The foreigners were stuck there since the intervening night of August 5 and August 6, after cloudburst and flash floods wreaked havoc in Leh and surrounding areas.
The foreigners rescued include 17 British and French nationals, nine people from the Netherlands, eight from Czechoslovakia, seven Germans and four Israelis, according to IAF officials. As many as 200 people, including foreigners, are still stranded in various places in the affected area, officials said.
Sniffer dogs, which arrived in Leh by an IAF transport aircraft, have been pressed into service to look for survivors as relief efforts by security forces gained momentum.
Omar visits Leh again
Last updated on: August 9, 2010 22:14 IST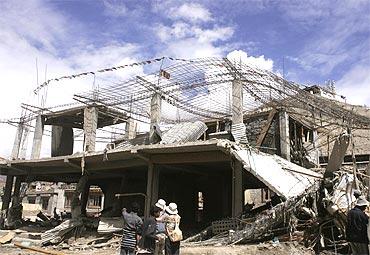 The army, the Indo-Tibetan Border Police, the General Reserve Engineer Force, police and civilian authorities were trying hard to remove the piles of mud and slush which had buried villages in the worst-battered Choglusmar belt, sources said.
Jammu and Kashmir Chief Minister Omar Abdullah on Monday visited Leh for the second time after the tragedy struck and directed the Border Roads Organisation to clear the Manali-Leh highway within the next three days. He asked the officials engaged in relief work to ensure that procedural formalities do not delay the operation.
'Cold desert' cut off
Last updated on: August 9, 2010 22:14 IST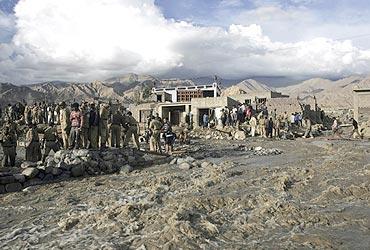 The highway, which was swept away in flash floods, is one of the two road links between the 'cold desert' and other parts of the country. Meanwhile, a fresh cloudburst in Kargil area on Saturday has cut off many villages.
The IAF tried to airdrop essential items including tents and clothing in the villages affected by the cloudburst as roads were badly damaged, Tashi Tsetan, deputy director with the development wing of the local administration, said.
Miraculous survival of a three-year-old
Last updated on: August 9, 2010 22:14 IST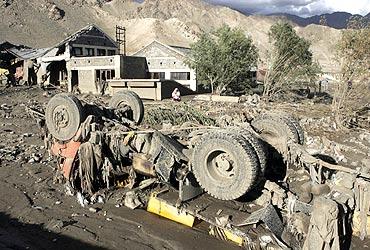 The air force has been ferrying medicines, relief material and doctors to Leh, using IL-76 and AN-32 aircraft and has been flying out bodies of the victims to various places, as the highways remained cut off. With death and destruction all around, the miraculous survival of a three-year-old girl brought cheers to the ITBP personnel slugging it out in the tough conditions.
Shreejal, daughter of ITBP Deputy Commandant (Engineering) Raj Kumar, who was separated from her parents in the flash floods, was found alive neck deep in slush in one of the building in the battalion campus, though her face had several injuries.
'Everyone was praying for Kumar's family'
Last updated on: August 9, 2010 22:14 IST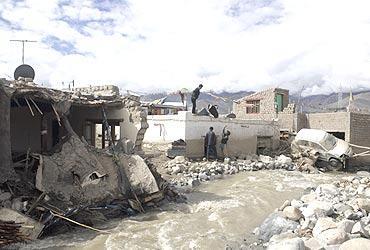 "Though my men had started the relief and rescue operation within half an hour after the cloudburst, everyone was praying for Kumar's family. As soon as the news spread that they had been found, the morale went up," ITBP DIG P K Dhasmana said.
 The campus of the 24th battalion of the force, once a neatly decked area housing officers, parks and playgrounds, is now covered with boulders and slush.
400 still missing
Last updated on: August 9, 2010 22:14 IST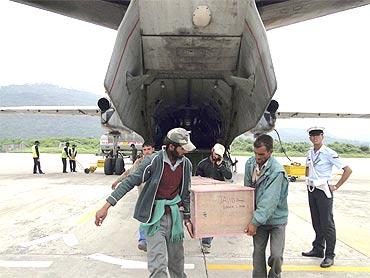 The officers, along with their families, had managed to climb atop their houses and escape the nature's wrath. Sources said nearly 400, including 26 army personnel, were still missing in the devastating cloudburst that has done considerable damage to the military establishment in this remote region.
The army said most of the missing personnel are feared buried under 20 to 25 feet of slush while a few could even have been washed away into areas under Pakistan's control.
'Our priority is to restore connectivity'
Last updated on: August 9, 2010 22:14 IST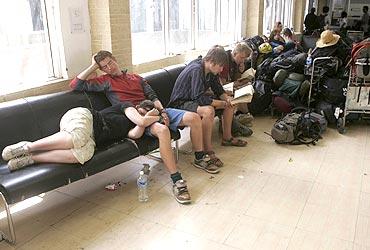 "The cloudburst has done a lot of damage to civilian as well as the military establishment," GOC of 14 Corps Lieutenant General S K Singh said. He said small culverts and bridges used for traveling to many forward locations have been destroyed and it will take quite some time before these can be re-built.
The army said it was hopeful of reopening the two national highways by the end of this week. "Our priority is to restore connectivity on the two national highways for which we have put in all our resources," Singh said.
Singh said seven bridges are needed on the Zijia access and four on the Rohtang access.
Two bridges near Leh were opened on Monday. The army's efforts to open the highway  was hampered by heavy rains on Sunday.