Kashmiris wake up to normalcy after 9 days
Last updated on: August 8, 2010 22:09 IST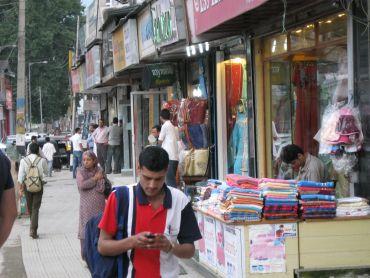 After a weeklong suffocating curfew, residents of Kashmir stepped out as free citizens again on Sunday, rediff.com's Sahim Salim reports.
After three days of incessant rains, clouds cleared in the Valley even as shops opened after nine days of relentless curfew on Sunday.
Srinagar buzzed with activity as people flocked to markets with a vengeance, knowing that the next curfew might be imposed again as early as Monday.
Kashmiris wake up to normalcy after 9 days
Last updated on: August 8, 2010 22:09 IST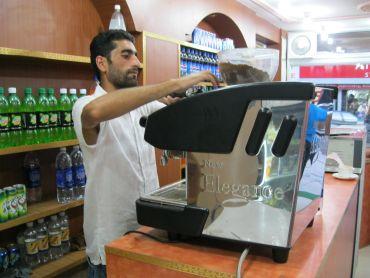 Arif Ahmed Mir opened his restaurant Coffee and Cream after 22 days on Sunday. Serving a cup of coffee, Arif, who has been running the restaurant on the busy Residency Road in Lal Chowk for the last one year, apologises that his expert coffee maker Ijaz Ahmed did not turn up today.
"What is the point? Tomorrow, it will be curfew again. Ijaz stays some 27 km away from here and he will not be able to go back home. So I excused him," Arif says.
Across the road, Hilal Ahmad Khan runs Khan News Agency. At the shop's entrance are stacked huge piles of unread newspapers accumulated over the past nine days.
"These newspapers should have gone to various houses around Srinagar, which I could not supply because of the curfew. I stay nearby and I came here every day during the past week, hoping that the curfew would be lifted.
"Now, I have even stopped supplying mainstream newspapers. I only sell magazines and local issued newspapers," Khan says.
Kashmiris wake up to normalcy after 9 days
Last updated on: August 8, 2010 22:09 IST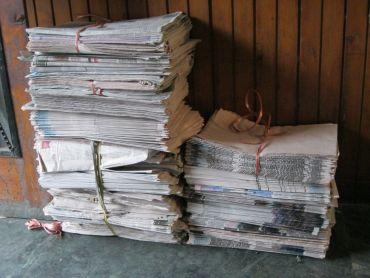 Taxi driver Abdul Hamid, who doubles up as a tour operator, says the Valley is jinxed because everything goes wrong here during the tourist season.
"All the violence and unrest that took place here in the last three years has happened during the tourist season. It affects our work tremendously. It is Yatra time now and normally you can see so many tourists flocking here wishing to be taken to places. You can see tourists pouring out of airports after each flight, but now only 10-15 people walk out," Hamid says.
An exasperated Hamid adds: "In fact, now I make money taking locals and tourists to the airport. They want to leave. Flights leaving from here are houseful. It does not feel like the tourist season."
Hamid has repaired his passenger side window twice in the past one month they were smashed once by the army lathis and another time by protestors.
He did dare to step out during the curfew to take a couple of passengers to the airport.
After days of no work, traffic constable Rishi Pal Singh, who stands at Lal Chowk, was seen exercising his arms directing traffic again on Sunday.
"During the past one week, I had no work. We sat in the bunkers, unless of course there was VIP movement. Now it feels like Lal Chowk again," Singh says.
Singh says he had trouble stepping out of his residence in Police Lines during the curfew.
"If I am in civil clothes, it will be a problem. So, I step out wearing my traffic police uniform," he says.
Another policeman, standing right next to Singh, who did not wish to be named, says that while stepping out, there was twin danger from curfew enforcement officials and the mob.
Kashmiris wake up to normalcy after 9 days
Last updated on: August 8, 2010 22:09 IST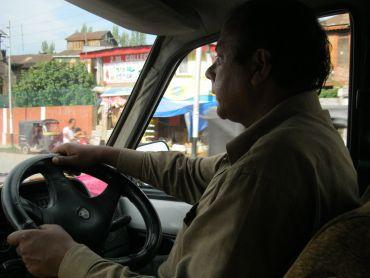 So what do the ordinary Kashmiris behind the shuttered shops and locked houses, do when such long curfews are enforced?
Mir points to a new, wrapped carom board in his shop. "My old carom board at home broke a week ago. So I bought this even before opening the shop," he says.
Driver Hamid says that Kashmiris never go hungry during the curfews because they have learnt to store in advance.
"We have severe winters here. So, you go to any house here, you will find a storeroom stocked with at least a month's ration. Hartals (strikes) and curfews have also made us wiser, so we stock much more than what we used to. The only thing I miss the most during these times is milk," Hamid says.
These ordinary Kashmiris say they do not belong to the stone-pelting brigade, but however, have one common opinion: the army must get out.
"Kashmiris feel, not wrongly, that the government does not trust them. See the army presence here. It is infuriating and intimidating. Killing after killings, fake encounters and misbehaving army men, have annoyed the Kashmiris. A respectable family does not send its women out in the evening for fear of being molested by the armymen," driver Hamid says.