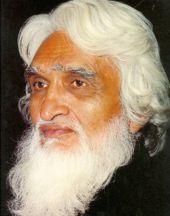 Days after renowned painter M F Husain was given Qatari citizenship, the central government on Tuesday said it would be very happy to see the eminent painter return to India and that it would not allow any threat to him.
"We would be very happy if M F Husain returns to India," Home Minister P Chidambaram said in reply to a question at a press conference in New Delhi.
He said that Husain's family had been informed that full security would be provided to him if the 95-year-old artist decides to come back to the country.
"There is no danger to him and we will not allow any threat to him," Chidambaram said noting that there were some cases against the painter in lower courts and lawyers can find a way to put an end to those.

The Home Minister also noted that the High Court and Supreme Court had quashed some cases against Husain.

Husain has been living abroad for nearly four years following a spate of legal cases in the country over his controversial paintings of Hindu goddesses.

Several cases were filed against him by people protesting his portrayal of Hindu goddesses in the nude. His house was attacked and art works vandalised by right wing Hindu groups.
The Delhi High Court in May 2009 had quashed criminal proceedings against the painter, saying his paintings were an expression of creativity.