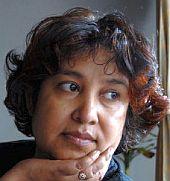 Controversial Bangladeshi writer Taslima Nasreen, who was dramatically bundled out of West Bengal in November 2007 in the wake of protests by radical Muslim groups, has returned to India to seek extension of her visa.
The 47-year-old Bangladeshi writer, who has been a target of Islamic fundamentalists, is currently staying at an undisclosed destination in New Delhi, official sources said.

The future plans of the doctor-turned writer, who shot into fame with her controversial book Lajja, were not immediately known. Her visa is valid till February 16. She has been requesting for permanent residency in the country but the government has not taken any decision on the issue.

The writer had earlier expressed her desire to visit Kolkata, which has been turned down saying radical elements may try and harm her, the sources said.
Taslima had earlier left India on March 18, 2008, for Sweden after she was kept at an undisclosed house in New Delhi for more than four months. She had not been allowed to see any visitors during the period and described her confinement as living in "a chamber of death".
Earlier, she was dramatically bundled out from West Bengal in November 2007 in the wake of violent protests by radical Muslim groups there.
Taslima has lived in exile in many countries including France, Sweden, the US and India since leaving her home in Dhaka in a cloak of secrecy in 1994. During her stay in India in the last five years, she has periodically travelled abroad with the last trip being in August 2009. 
Recipient of various awards, Taslima was shifted from her Kolkata residence after violent protests marred parts of the metropolis over her controversial book Dwikhondito (divided into two).
Certain references in the book had stirred a storm with some Muslim organisations demanding that she be asked to leave the state.
Taslima was packed off from Kolkata and shifted to Jaipur. The Rajasthan government decided to shift her to Delhi after some Muslim groups had threatened state-wide protests against her stay there.
Despite the writer's wish to return to Kolkata, the Left Front government in West Bengal disfavoured her return there.