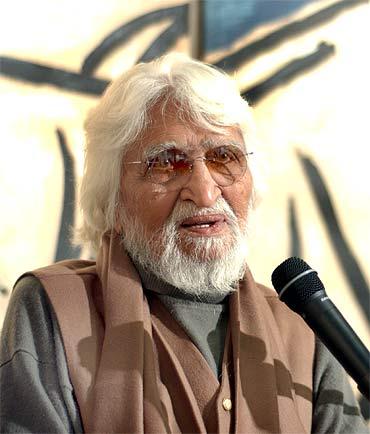 Leading artists on Thursday welcomed the conferment of Qatar nationality on M F Husain, who has been living in self-imposed exile abroad for nearly four years following a spate of legal cases in the country over his controversial paintings of Hindu goddesses.
"That's a great honour for him," painter Anjoli Ila Menon said, describing 95-year-old Husain as a "true Karma Yogi".
Referring to the controversy over his work, she said all that the government had do to was assure security to him.
Noted filmmaker Shyam Benegal said he would not blame Husain if he accepts Qatar's nationality as he has been treated "so shabbily in our country".
He is a living treasure and certainly the most celebrated Indian contemporary artist, Benegal said.
News about the Qatar nationality for the legendary artist was reported by The Hindu, which printed five lines written by Husain above a line sketch of a horse, his trademark. "I, the Indian-origin painter M F Husain, at 95, have been honoured by Qatar nationality," wrote the painter, who shuttles between London and Dubai in exile.
Husain went in exile after a hate campaign was launched against him in 2006 over his controversial paintings. Several cases were filed against him by people protesting his portrayal of Hindu goddesses in the nude. His house in India was attacked and art works vandalised by the fundamentalists.
Last month, the legendary painter told PTI in Dubai that he missed India "tremendously" but could not return to the country because of the numerous cases filed against him for his art. "I miss India tremendously. But I can't go back because of the many cases against me," he had said.
Congress spokesman Rajiv Shukla said Husain should come back to India and he will be given full protection and fool-proof security.
"Nothing will happen to him. He is an Indian citizen and he has got equal rights on India as any other citizen," Shukla said, adding Husain should remain an Indian citizen. "He will be most welcome here."
Reacting to Qatar's decision, RSS chief Mohan Bhagwat said in Thiruvananthapuram that the Sangh was not opposed to the renowned painter's return to India, but he should apologise to the people "whose feelings he has hurt with his paintings."
"We welcome M F Husain as an Indian citizen. Why should I oppose? But every Indian has to take care that he should not hurt the feelings of other Indians," he said. Appreciating Qatar's decision, Akhil Sibal, the lawyer of Husain, said wherever Husain goes he is welcomed with open arms by head of states. "He is a living legend, but in India, his own country, the government remains a silent spectator to the harassment he faces," Sibal said.