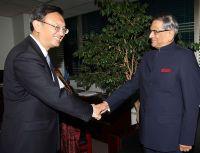 Pakistani Foreign Minister Shah Mehmood Qureshi said he would adopt a "positive approach" for his meeting with his Indian counterpart S M Krishna on the sidelines of United Nations General Assembly in New York.
Qureshi told state-run Pakistan TV that he hoped his engagement with Krishna would be "meaningful".
The two foreign ministers are expected to meet after talks between Indian Foreign Secretary Nirupama Rao and her Pakistani counterpart Salman Bashir. This will be the first high-level contact between India and Pakistan since the premiers of the two countries met at Sharm el-Sheikh in July.
Krishna, meanwhile, has said he was "skeptical" about the outcome of his meeting with Qureshi in the absence of Pakistan's action against perpetrators of the Mumbai attacks. Ahead of his meeting with Qureshi on September 27, Krishna said only "sincerity and seriousness" on the part of Pakistan would provide a "sound backdrop" for a meaningful dialogue and everything depended on what Pakistan does between now and when the two foreign ministers meet.
India suspended the composite dialogue process with Pakistan in the wake of the Mumbai terror attacks in November last year and linked the resumption to Pakistan taking action against the perpetrators of the assault.
Qureshi also said he would meet the foreign ministers of several countries on the sidelines of the UN General Assembly.
Image: External Affairs Minister S M Krishna (right) greets his Chinese counterpart Yang Jiechi at the G5 meeting in New York | Photograph: Jay Mandal