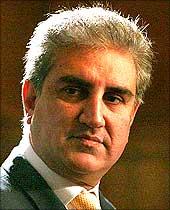 Pakistan Foreign Minister Shah Mahmood Qureshi on Wednesday said he is not expecting any "major breakthrough" in the upcoming meeting with his Indian counterpart S M Krishna though his country continues to be hopeful that bilateral relations will improve.
"Frankly speaking, I am not expecting any major breakthrough (during the meeting with Krishna on the sidelines of the United Nations General Assembly in New York). India's mindset is evident. I am not too optimistic and I do not think any major breakthrough is possible," he said.
"I have already said that we want the situation to take a turn for the better. But we should not be too optimistic as there are lots of challenges," Qureshi told mediapersons in his hometown of Multan.
Qureshi said he would approach the meeting with Krishna in New York "with positive mind" in the hope of "a constructive engagement."
"I will clearly spell out Pakistan's views before them. I will present the reality whether anyone likes it or not," Qureshi added.
A date for a meeting between the foreign secretaries of India and Pakistan has not yet been fixed. They are expected to meet ahead of the meeting of the foreign ministers on September 26, he said.
India put on hold its composite dialogue with Pakistan in the wake of the Mumbai attacks, which were blamed on the Pakistan-based Lashkar-e-Tayiba terror group.
New Delhi has linked the resumption of the peace process to Islamabad taking action against the perpetrators of the attacks. Asked about comments by Indian leaders about Pakistan-based terror groups planning fresh attacks on India, Qureshi said, "We have always said that if you have some credible information, then share it with us so that we can take pre-emptive steps. We do not want that there should be some problems in India."
"We also do not want Pakistani soil to be used by any terrorist group and we do not want Pakistan's image and name to be affected. Making accusations will not yield any benefits," Qureshi added.
Image: Pakistan Foreign Minister Shah Mehmood Qureshi