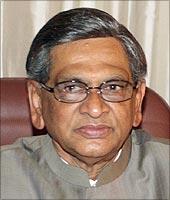 Notwithstanding the incidents of Chinese aggression, the ministry of external affairs on Monday described as "most peaceful" the boundary with China and said these "incursions" will be certainly sorted out.
"Let me go on record to say that this (border with China) has been one of the most peaceful boundaries that we have had as compared to other boundary lines with other countries," Minister for External Affairs S M Krishna told reporters.
He was asked about the incidents of China violating India's airspace and International Border.
Noting that the country has a very long border of over 3000 km with China, Krishna said, "There is a built-in mechanism which is in place and which takes care of such incursions."
"With China, I think the boundary has been one of the most peaceful. So, there is no issue on that. There is no problem on that. These incursions will be certainly sorted out," he said.
After helicopter incursions into Indian airspace, official sources said the Chinese Army had violated the International Border in Ladakh region and painted boulders and rocks in the area red.
Krishna ruled out that these incursions were any "cause of concern".
The minister said the special representatives of hte two countries on boundary issue are also making efforts to address the issue of different conceptions between India and China relating to the International Border.
The ministry has been maintaining that such incidents of transgression occur due to lack of a mutually-agreed border.
Image: External Affairs Minister S M Krishna