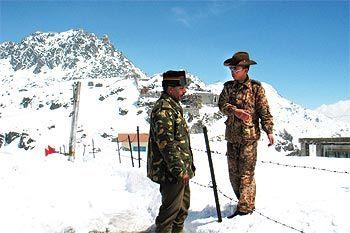 The Indian Army on Monday stated that Chinese copters had violated the Indian air space in Leh in Jammu and Kashmir. 
Colonel Kachari, Army spokesperson for Northern Command, said, "It has happened. That is confirmed. But there is nothing alarming in it. I have given a written reply and that is the correct version."
Two Chinese helicopters reportedly violated the Indian air space in the recent months in Leh.  The helicopters air-dropped some canned food in a barren land at Chumar, north-east of Leh, along the border on June 21. The MI series helicopters were reported by residents living along the Pangong Lake. 
The Chinese People's Liberation Army has been crossing over into the Indian side in this region quite frequently with August reporting the maximum number of incursions.   In August this year, Chinese troops have entered the Indian territory 26 times and walked away with petrol and kerosene meant for jawans of the border security forces.  The Chinese army had made 223 attempts last year and left tell-tale signs.
Image:  An Indian army officer talks with a Chinese soldier at the 4,310 metre high Nathu-la pass on the country's northeastern border with China
Photograph: Rupak De Chowdhuri/Reuters