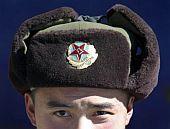 Indian Army's Northern commander, Lt Gen P C Bhardwaj, will visit the Leh-based 14 Corps headquarters over the next few days to verify reports of Chinese incursion in the Ladakh area.
Sources say the matter will also be raised at the next border meeting between Indian and Chinese officials.


Official sources have said that Chinese troops entered nearly 1.5 km into the Indian territory near Mount Gya, recognised as the international border by India and China, and painted the word 'China' in Cantonese on the boulders and rocks there with red spray paint.


The incursions were reported from the area generally referred in the Chumar sector in east of Leh.


The 22,420 ft Mount Gya, also known as 'fair princess of snow' by the Army, is located at the tri-junction of Ladakh in Jammu and Kashmir, Spiti in Himachal Pradesh, and Tibet. Its boundary was marked during the British era and is regarded as the international border by the two countries.


The border patrol discovered the red paint markings on various rocks and boulders along the Zulung La (pass) on July 31 and the Chinese had entered into the area and written 'China' all over the place, sources said.


Indian soldiers later erased the text, writing 'India' instead. This is not the first such reported intrusion. On June 21 Chinese helicopters had violated the Indian air space along the Line of Actual Control in Chumar region. The Chinese troops also reportedly dropped expired tinned food packets in the area.


Some people blame the problem of Chinese incursions on the lack of infrastructure.
Meanwhile, the Chinese Foreign ministry termed the reports of incursion into India as groundless.
The Chinese Foreign Ministry, in a statement, said: 'Reports of any incursion into India are groundless and based on incidents, which never happened.'
The statement further claimed that Beijing seeks a fair and mutually understandable solution through a peaceful and friendly negotiation between both the Asian giants.