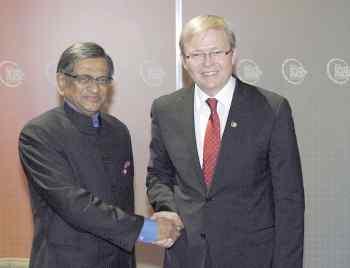 External Affairs Minister S M Krishna on Friday met Australian Prime Minister Kevin Rudd and discussed various bilateral issues, including the recent attacks on Indian students in Australia.
Rudd assured Krishna that all requisite steps would be taken to ensure the safety of Indian students in Australia. "Australia is not a racist country. We welcome Indian students," the Australian PM told Krishna.
He added that he was looking into the problems faced by Indian students in Australia. "The experience of studying in Australia will be friendlier," Rudd told the external affairs minister.  
The closed door meeting, which was held at Cairns in Queensland, was also attended by Australian Foreign Minister Stephen Smith and Indian High Commissioner Sujatha Singh, apart from others top officials from both countries.
"Prime Minister Rudd is fully aware of the sensitivity of the issues concerning students. He explained to me the remedial measures taken by his government. I am satisfied that both Federal and state level governments in Australia are fully geared to meet the situation," Krishna said.
"Rudd described India as an emerging power and I am convinced that Indian students coming here will be safe and taken care off," Krishna added.
Meanwhile, 'The Age' newspaper on Friday reported that Krishna also sought extra police to patrol the 'troubled areas' of Sydney, where a pattern of anti-Indian violence exists. Krishna made the call after meeting Indian students in Sydney on Thursday, apart from meetings with New South Wales Premier Nathan Rees and senior police officials including Deputy Commissioner Dave Owens, the paper said.
The minister said authorities had to ensure the safety of overseas students in troubled areas by maintaining enhanced police presence. He was told by the police that patrols had been increased at Harris Park and several other suburbs since the first report of violence against students two months ago. Several other issues were raised, including better lighting of areas where attacks were common and permanent involvement by the police in student orientation and community activities.
Krishna said tougher regulations were needed in Australia and India to prevent the misery being experienced by the students down under. "Unfortunately, there are a number of dubious educational institutions encouraging students to take big loans to finance their education. There is inadequate information to support students when they are given promises by unscrupulous education and immigration agents," he said
No discussions took place on the issue of uranium sale to India, Krishna said. "No uranium talks were raised or discussed during the meet," Krishna said as he met the Australian premier and the foreign minister on the sidelines of the Pacific Island Forum.
He said that discussions were also held on how to expand bilateral relationship between the two sides. "We discussed the expansion of bilateral relationship in the field of investment and energy. We want Australia to look into our energy needs -- natural gas, non-renewable and renewable energy, coal and the technologies they have. We want to have their technologies," he said.
"We have discussed bilateral issues in greater details," Krishna said. The minister will be leaving on Saturday for Melbourne where he will meet Indian community members and students. On Sunday, Krishna will also take a look at the western suburbs in Melbourne, which have been reporting high crime rates. He will also be briefed on the demonstration of a recently installed CCTV van at a local station. Krishna will also meet Shravan Kumar, one of the first victims of racist attacks in the country, at a rehabilitation centre.
Krishna said an improved system of pre-and-post arrival into the nation would help students and those who are already in Australia should get what they have been promised.
"It is important to ensure that the proposed measures are followed through and result in a qualitatively improved experience on the ground for our students in Australia," he said, while insisting that Indian students must receive good education and that he had no doubt Australia would ensure it.
On the bilateral ties, Krishna said the two sides have agreed to work towards taking their relationship to the level of strategic partnership.
"Our relationship already encompasses diverse areas that can act as building blocks for such a partnership," he said.
Stating that India attached importance to its ties with Australia, Krishna noted, "Our relations have grown and expanded over recent years to cover virtually every area of interaction."
"We are committed to further strengthening and expanding our relations with Australia," he said, adding, "We are happy to note the priority that you (Smith) and your government have placed on enhancing the bilateral relationship with India."
"We look forward to discussing the various bilateral issues in detail when you visit India in October for the Foreign Ministers Framework Dialogue," he said.
Image: Australia's Prime Minister Kevin Rudd with External Affairs Minister S M Krishna at the Pacific Island Forum in Cairns | Photograph: Reuters