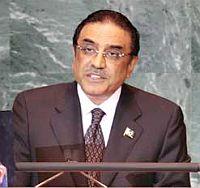 Pakistan President Asif Ali Zardari has promised that Islamabad would take action against alleged Mumbai attack mastermind and Lashkar-e-Tayiba chief Hafeez Saeed.
"We''ll take action against Hafiz Saeed," Zardari said while responding to a query in London.
Pakistan, under pressure from the United States, slapped two cases against Saeed under the anti-terrorism act. Saeed has been booked for delivering anti-state speeches in his rallies, and collecting charity to fund terror activities.
The cases have been registered in Faisalabad. Pakistan's latest action against Saeed came hours after the US Ambassador to India, Timothy Roemer called on Islamabad to take action against the 26/11 Mumbai Terror attack suspects, including the LeT chief.
"There are five, probably six, suspects currently being held in Islamabad in connection with the 26/11 Mumbai terror attacks. It is extremely important that these six people be brought to justice and put behind bars and receive sentences commensurate with their crimes against India, US and the world," Roemer said
"I hope that in future the action on 26/11 includes people like Hafiz Saeed. Recently he was put into an Interpol red flag list," he added.
Roemer said the LeT is a regional and global threat to both the US and India, and stressed that Washington is committed to defeating and crush the banned terror outfit.
"It is time to reflect on the common enemy of the US and India. We share concerns about the LeT, Al Qaeda and the Taliban and the threat emanating from that part of the world," he added.
The remarks follow Union Home Minister P Chidambaram's visit to US, where he had briefed several ministers in the Barack Obama adminstration about Islamabad's inaction against perpetrators of the Mumbai carnage.
Interpol has also issued a Red Corner Notice against Saeed, and Zaki –ur- Rehman Lakhvi (another mastermind of the 26/11 attacks). The notice was issued after a Mumbai court issued non-bailable warrants against both terrorists.
Image: Pakistan President Asif Ali Zardari