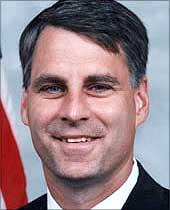 United States' envoy to India Timothy J Roemer on Thursday downplayed Pervez Musharraf's recent admission -- about diverting US funds, meant for fighting terrorism, against India -- claiming it was the former Pakistan President's opinion as a private citizen.
In an interview with a television channel, Musharraf had recently stated that the military aid provided by the US to Pakistan, for the war against terror during his tenure, had been used to strengthen defences against India, the first such admission by any top Pakistani leader.
Musharraf admitted that he had violated rules governing the use of the military aid, and justified his actions by saying he had 'acted in the best interest of Pakistan'.
The Pakistan government had slammed the former dictator over the statement, saying it had 'dented' the country's image.
Musharraf on Wednesday backtracked from his stance and categorically denied the misuse of any US military aid during his regime.
Terming as 'serious' Musharraf's remarks, Roemer said the Barack Obama administration was checking the veracity of his admission.
"The US takes these allegations very seriously. We will find the veracity of these allegations," Roemer told reporters.
"The allegations have been made by a former official. He is currently a private citizen," he said.
The American envoy also stated that Jamaat-ud-Dawa chief Hafiz Saeed, the mastermind of the terror attack on Mumbai, should be brought to justice.
The Pakistan government has repeatedly claimed that Saeed cannot be prosecuted due to the insufficient evidence on the terror attack provided by India. 
Endorsing India's view that 26/11 terror mastermind Saeed and five other suspects be brought to justice, he said Pakistan-based terror outfit Lashkar-e-Tayiba posed a 'regional and global' threat.
"The LeT is a regional and global threat to both the US and India, and Washington is committed to pursuing and defeating the LeT and other terror outfits," he said.
"There are five or six 26/11 suspects held in Pakistan. It is imperative that they, including Hafiz Saeed, are brought to justice," Roemer said. Pointing to the threat from LeT, al Qaeda and Taliban 'emanating from that part of the world', Roemer expressed the US government's resolve to "take on this common threat".
"I hope that in the future, the action on 26/11 includes people like Hafiz Saeed. Recently he was put into an Interpol red flag list," Roemer said.
The US is expending personal treasure and resources to help dismantle the infrastructure of terrorism in this region, he added.
In the 26/11 attacks, the people of India suffered tremendous hardship and loss and devastation, Roemer said, adding, "It is time to reflect on the common enemy of the US and India. We share concerns about the LeT, Al Qaeda and the Taliban, and we are working closer and closer together as two great powers to take on a common enemy and bring blood-thirsty perpetrators of these attacks to justice," Roemer said.
"When scores of Indians are killed, when six Americans are killed, this is a priority for our country and I know it is a priority for India," he said.
The Indo-US relationship is an extremely positive relationship, Roemer said. "Secretary of State Hillary Clinton was here, expressing deep interest on the part of our government. She came to India, went to a conference in Bangkok and then went home. She did not go to any other place in the area. She values this Indo-US bilateral relationship," said Roemer.