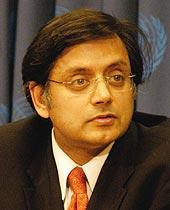 Perhaps chastised by the recent criticism from his party high command and the general public, Minister of State for External Affairs Shashi Tharoor has apologised for his recent comment on the micro-blogging site Twitter.com that he was prepared to travel in the 'cattle class out of solidarity with all our holy cows'.
"It's a silly expression, but means no disrespect to economy travellers; only to airlines for herding us in like cattle. Many have misunderstood," writes Tharoor on Twitter.
"I am told it sounds worse in Malayalam, especially out of context. To those hurt by the belief that my repeating the phrase showed contempt: Sorry," Tharoor says.
"Now (I) realise, I should not assume people will appreciate humour. And you should not give those who would wilfully distort your words an opportunity," he adds.
Tharoor was quoted as saying on Twitter that he would travel in "cattle class out of solidarity with all our holy cows," which was termed "unacceptable and totally insensitive" by his party, the Congress.
Slamming Tharoor's remarks, Congress spokesperson Jayanti Natarajan had said: "Certainly, the Congress doesn't endorse or approve it and we find it unacceptable. We find this articulation unacceptable and absolutely insensitive."
The whole controversy erupted after Finance Minister Pranab Mukherjee asked Congress leaders to observe austerity in order to cut down expenditure in the wake of draught declared in parts of the country. Earlier, the Congress had decided that its ministers and lawmakers would also take a 20 per cent cut in salaries.
Image: Minister of State for External Affairs Shashi Tharoor