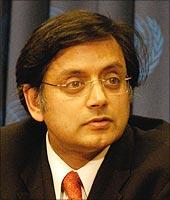 Minister of State for External Affairs Shashi Tharoor on Wednesday landed in a fresh controversy for reportedly dubbing travel by economy class as "cattle class", a remark which has been strongly disapproved by the Congress.
"We totally condemn it (Tharoor's comments). The statement is not in sync with our political culture. His remarks are not acceptable given the sensitivity of all Indians," said All India Congress Committee spokesperson Jayanti Natarajan.
"Certainly the party does not endorse it. It is absolutely insensitive. We find it unacceptable and totally insensitive," she said when asked to comment on Tharoor's remarks on Twitter, a social networking website.
Tharoor reportedly wrote on Twitter: "Absolutely, in cattle class out of solidarity with all our holy cows."
"We do not approve of this articulation. Thousands of people travel in economy class," Natarajan said. She said the minister's expression could have been a slang, but his remark was not sensible.
Asked whether Tharoor's selection as a minister was a wrong decision, Natarajan said: "It is the prerogative of the prime minister and I will talk only about his (Tharoor) statement."
To a question whether disciplinary action will be taken against him or any clarification will be sought, she said it is for the high command to decide. "I am only commenting on his statement. It is absolutely insensible," she said.
Tharoor was at the centre of a controversy recently for staying at a five-star hotel for over three months at a time when the government was prescribing austerity in view of the economic slowdown. The minister was asked by Finance Minister Pranab Mukherjee to vacate his hotel room after a news report appeared about his stay.
Image: Minister of State for External Affairs Shashi Tharoor