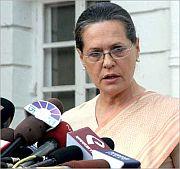 All India Congress Committee chief Sonia Gandhi has taken a conscious decision of being neutral to Andhra Pradesh politics in the wake of the sudden demise of its chief minister Y S Rajashekhara Reddy, and wait for a three-member committee to brief her. Till such time, she is not likely to meet any leader from the state.
Congress will set up a three-member committee comprising of Union ministers Pranab Mukherjee, Veerappa Moily and AICC general secretary Digvijay Singh to work out a formula on the present crisis in Andhra Pradesh.
In order to gain time, the high command spoke to the three top leaders -- Pranab in London, Digvijay Singh, who was in Hyderabad, and Veerappa Moily in Delhi -- to have an informal meeting to chalk out the possible solution to the Andhra impasse.
Once the mourning period is over on Wednesday, the three-member panel is likely to meet in Delhi to take stock of the situation and later, if warranted, the committee members may visit Hyderabad.