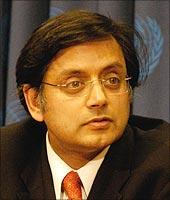 After the rebuke from his party, Shashi Tharoor on Thursday came under attack from Bharatiya Janata Party leader and Madhya Pradesh Chief Minister Shivraj Singh Chauhan, who said he has no right to continue in the Union Council of Ministers after his 'insulting' remarks about economy class travelers.
"I believe that in a democracy, people are God. To refer to them as cattle is an insult to them. And I believe that such a person has no right to be a Union minister," he told reporters. Chauhan said Tharoor, Union Minister of State for External Affairs, perhaps did not know India very well.
"And if he says that to sit in economy class is like being cattle, then Shashi Tharoorji, those people who travel economy class are very big people," he said.
Tharoor, a former United Nations diplomat and a newcomer to politics, on Wednesday received a sharp rebuke from his own party Congress. His remarks about 'cattle class' in the context of economy class travel, forced by government's austerity measures, were 'unacceptable and insensitive', said the party.
The first time Members of Parliament, who also immediately became a minister, attracted criticism after he replied to a query on his page in 'Twitter', on whether he would travel in cattle-class to Kerala next time on economy class, by saying "Absolutely, in cattle class out of solidarity with all our holy cows".
The Congress party's strong reaction came against the backdrop of party president Sonia Gandhi herself flying economy class in commercial flights and Rahul Gandhi traveling in chair car in Shatabdi Express, as part of the austerity campaign because of the current drought and other economic difficulties.
Tharoor had earlier come under the party's scanner in the wake of a newspaper expose that brought to light his stay in a five-star hotel, which he had to vacate on the party's directions.
The BJP also asked Prime Minister Manmohan Singh to apologise for the remark of his ministerial colleague or sack him.
"The people would like to know from the prime minister his clarification with respect to Tharoor's comment," BJP spokesman Rajiv Pratap Rudy said.
Describing as 'a cruel joke and insult' to the crores of people traveling in general class, Rudy alleged that by making the remark, Tharoor had equated those traveling in the economy class with cattle. He said the prime minister should seriously consider the ramifications of Tharoor's remarks.
To a query, Rudy said it was now up to Dr Singh to clarify his position on the issue on his own or take action against Tharoor. Terming as 'irresponsible' the remark of the minister, the BJP leader said it reflected the Congress' "level of indecency and the mentality of its leaders."