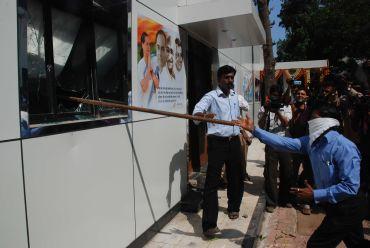 Activists of Ramdas Athavale-led Republican Party of India on Friday attacked the Mumbai Congress's newly refurbished office after Athavale's belongings were "thrown out" from his official residence in Delhi, which was allotted to him when he had been a member of Parliament.
The workers pelted stones at the newly renovated office and shouted slogans against the central government.
"We condemn the government's act of throwing out Athavale's belongings out of 8 Lodhi Estate, the residence he was allotted as an MP," a supporter said.
Athavale lost the recent Lok Sabha elections from Shirdi.
RPI supporters shouted slogans against Congress president Sonia Gandhi and the United Progressive Alliance government.
The Mumbai Regional Congress Committee office -- Rajiv Gandhi Bhavan -- was inaugurated by Sonia Gandhi earlier this week.
Image: RPI activists crash the windows of the Mumbai Congress office on Friday | Photograph: Sahil Salvi