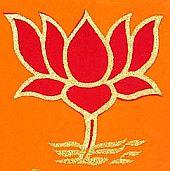 The Congress and Bharatiya Janata Party on Monday bagged one assembly seat each in Gujarat where bypolls for seven seats were held on September 10.
Congress retained Dhoraji assembly seat when its candidate Jayesh Radadia defeated his BJP rival Jayshukh Thesia by 15,988 votes.
BJP wrested the Jasdan seat from Congress when its candidate Bharat Bhogra defeated Congress rival Bhavna Bavalia by 14,774 votes.
By-polls were held in Dhoraji when the seat fell vacant after Vitthal Radaidia won from Porbandar Lok Sabha seat. Congress had given ticket to his son.
The Congress, however, received a jolt in its bastion Jasdan, which it had never lost since Independence. The seat fell vacant when the sitting MLA Kuverji Bavalia got elected to Lok Sabha from Rajkot.
Besides Dhoraji and Jasdan, bypolls were held in Dehgam, Danta, Sami and Chotila.