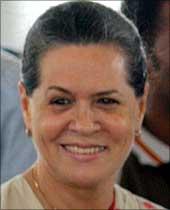 President Pratibha Patil has rejected a petition seeking the disqualification of United Progressive Alliance chairperson and Congress President Sonia Gandhi from Parliament based on the recommendation of the Election Commission.
The petition had sought the disqualification of Gandhi on the grounds that she accepted the title of 'Grand Officer of the Order of Leopold', from the government of Belgium.
The petition was filed by one P Rajan of Kochi.
President Patil, in a meticulous order, stated that the petition was devoid of any merit and Gandhi's actions cannot be said to have incurred disqualification, as argued by the petition.
Read the full presidential order