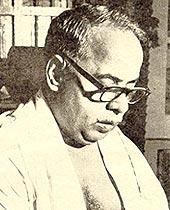 C N Annadurai, whose birth centenary is being celebrated today, was a pioneer in many ways. Fondly called Anna (elder brother) he was the first person to cross over from films to politics. Born to a weaver family in caste-ridden Tamil Nadu, it is amazing that he went on to become the chief minister of that state.
In becoming the chief minister he was one of the first state leaders to humble the mighty Congress.
Tamil Nadu is dotted with roads, squares, places and even universities named after 'Anna'. There is not a single district in the state that doesn't have some road, street, building named after him. For that he has to thank the Dravidian parties that swear by him.
When M G Ramachandran launched his own party, he named it after his mentor Annadurai. Actually the film hero 'MGR' was created by the duo of Annadurai and K Karunanidhi. Both were script writers and they wrote perfect roles for the matinee idol.
So in one picture you saw MGR as a rickshaw puller, in another you saw him as a fisherman. All aimed at the masses and all aimed for votes. It worked perfectly as MGR tirelessly campaigned for both his mentors. He always drew massive crowds and the votes followed.
Annadurai was known for his powerful scripts and also his oratory. He could move crowds with his words and his pupil Karunanidhi continues that tradition.
As chief minister he introduced rice at Re 1 per kilo. It was laughed at by many, but 42 years later rice is still being sold for one rupee a kilo in ration shops.
His political mentor was E V R Ramaswamy or Periyar as he was known, who headed the social movement called the Dravida Kalagham. Annudurai left his mentor in 1949 to form the Dravida Munnetra Kazagham, a political party.
But when he led the DMK to his first electoral victory in 1967 he did not forget his mentor. Even before he took over as chief minister he went all the way to Tiruchi, 300 kms away from Chennai, to seek Periyar's blessings.
Though Annadurai fought the elections against the Congress and attacked them on all fronts, he never made personal attacks against K Kamaraj who was leading the Congress at that time. Though both Karunanidhi and J Jayalalitha have learnt a lot from Anna, this is one lesson they have forgotten.
Annadurai built his popularity on the anti-Hindi agitation and the anti-Brahmin stand. He was in politics for 33 years, and enjoyed the fruits of power for two years.
Today on his centenary, Union Finance Minister Pranab Mukherjee will release a 5 rupee coin with his image. In Tamil Nadu, a raft of celebrations are planned to mark the occasion.   
Image: C N Annadurai