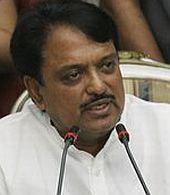 A decision on alliance with Nationalist Congress Party for the Maharashtra assembly polls will be taken by Sunday, senior Congress leader Vilasrao Deshmukh said.
"We will take a decision -- yes or no -- by Sunday," he told media persons after an hour-long meeting with party chief Sonia Gandhi on Saturday. Union Minister Sushilkumar Shinde, who was appointed chairman of the campaign committee for the Maharashtra elections, accompanied him.

Deshmukh, who was on Friday appointed chairman of the Congress election management committee, thanked Gandhi for giving him the responsibility.
A known detractor of NCP chief Sharad Pawar, he said that Gandhi had asked him to coordinate the election work by taking everyone along to ensure maximum seats for the party.
Deshmukh's appointment to the key post came close on the heels of the All India congress Committee's statement that NCP needed to accept 'new ground realities' during seat sharing.
The Congress has pitched for renegotiation of the alliance with NCP for the assembly polls focusing on new parameters for seat sharing in the 288-member assembly.
In 2004, seats were distributed in proportion of 164 and 124 for Congress and NCP respectively. Congress wants a change in this formula citing delimitation exercise, but NCP favours sticking to it. Congress is understood to be ready to give a maximum of 110 seats.