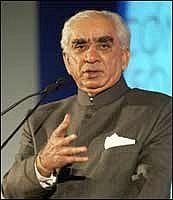 The Congress on Wednesday suggested that Jaswant Singh has been handed out poetic justice by the Bharatiya Janata Party, which expelled him today in the wake of his controversial book, projecting Mohammad Ali Jinnah as greater than Pandit Jawaharlal Nehru and Sardar Vallabhbhai Patel.
"We had rejected the contents of the book. The BJP has rejected the author himself," All India Congress Committee general secretary Janardhan Dwivedi said. He was asked whether the Congress would compliment BJP for showing the door to Singh for his contention that Jinnah was greater than Nehru and Patel.
The Congress had earlier attacked Singh for eulogising Pakistan's founder and terming India's first Prime Minister Jawaharlal Nehru as partly responsible for partition. In a tough decision meant to send out a strong signal to party members, BJP expelled Singh from the party, ending his three-decade long association with it.
Jaswant came under attack from friends and foes alike after he released his book 'Jinnah - India, Partition, Independence' earlier this week.
"BJP and Singh are demonstrating their patriotism by denigrating India's first prime minister while eulogising Pakistan's first head of state," Congress spokesman Abhishek Singhvi had said earlier.