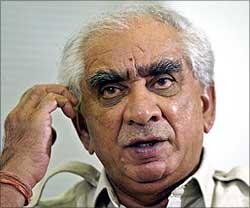 In a startling revelation, expelled Bharatiya Janata Party leader Jaswant Singh said on Wednesday that he had sent an advance copy of his latest book "Jinnah -- India-Partition-Independence" to senior party leader and Leader of Opposition in the Lok Sabha L K. Advani, and therefore, this made his removal from the party after 30 years of association even more painful and shocking.
Interacting with mediapersons in Shimla on the sidelines of a three-day party Chintan Baithak, which he is not attending in the wake of his sudden expulsion, Jaswant Singh said that at the time of his sending the book over to Advani, there was no reaction or hint of things to come, and this made his expulsion from the party one of the saddest episodes of his life.
He said he never could have imagined in his wildest dreams that he would be expelled from the BJP just for "writing a book." The book, he said, was a personal viewpoint, and had nothing to do with the policies or stances of the BJP.
Singh's revelation came hours after Bharatiya Janata Party president Rajnath Singh announced that Singh was being expelled from the party.
Singh, who arrived in Shimla on Tuesday evening for the Chintan Baithak of the party, kept away from the meeting by changing his hotel.
According to sources Singh kept away citing bad health. He also skipped a dinner hosted by Advani.
The BJP has distanced itself from the book and Singh's views on Jinnah.
BJP is meeting in Shimla to discuss the causes for the party's defeat in 2009 general elections and its strategy for the future.
The meeting is also likely to take up the issue of former Rajasthan Chief Minister Vasundhara Raje, who has refused to quit as Leader of Opposition in the state assembly.
Over 25 senior party leaders, including members of the party's parliamentary board and chief ministers Narendra Modi of Gujarat, Raman Singh of Chhattisgarh, Ramesh Pokhriyal of Uttarakhand and BS Yeddyurappa of Karnataka, will participate in the three-day meeting.
Photograph: Reuters