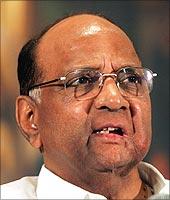 All India Congress Committee general secretary Digvijay Singh on Thursday said Nationalist Congress Party chief Sharad Pawar should consider merging his party with the Congress as Sonia Gandhi's foreign-origin issue was no longer relevant.
"Even the NCP admits this fact. Then why doesn't Pawar consider merging NCP with the parent party," he asked, adding that it was just his opinion and not an advice.
Singh was talking to reporters after paying homage to the late Rajiv Gandhi on his 65th birth anniversary at the Cooperage grounds in South Mumbai.
When asked about the alliance with the NCP for the forthcoming assembly elections in Maharashtra, Singh said the high command was discussing the issue.
Meanwhile, Maharashtra NCP President R R Patil said there was no question of merging his party with the Congress.
"We are still the number one party in the state and the Congress was wrong in assuming that our strength had gone down after the Lok Sabha elections," he said.
Patil said his party was in favour of alliances with secular parties. "But if the Congress wishes otherwise, we too are prepared to take a different stand," he said.