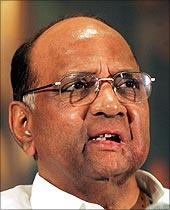 The Congress is keeping the Nationalist Congress Party guessing on their pre-poll alliance in Maharashtra, with no decision taken over it even on Monday, during a meeting of senior party leaders chaired by Congress president Sonia Gandhi in New Delhi.
"No decision on the alliance with NCP has been taken," said Mumbai Congress president Kripashankar Singh, who attended the crucial meeting. Currently, there are both pro- and anti-alliance views within the party with former state chief minister Vilasrao Deshmukh batting strongly against any pre-poll truck with the NCP.
In the meeting which lasted for an hour and was attended by senior leaders of the party, the state leadership is learnt to have told the party high command that people's support to the Congress had increased after the Lok Sabha election, in which the party fared better than the NCP.
"The party high command took views of the state leadership and also listened to the views of central leaders. State leaders were confident of the support of the people to the party in the election and they shared their opinion with the party high command," a Congress leader said on the condition of anonymity. He added that there is a general perception in the party that the Congress has become stronger in Maharashtra after the Lok Sabha polls.
The leader gave enough hints that the party may be looking for a bigger pie of the total 288 assembly seats. During the meeting, Gandhi is learnt to have directed partymen, who had been assigned organisational tasks for the state, to finish incomplete works, after which another meeting will be held next week to finalise strategy for the upcoming assembly polls.