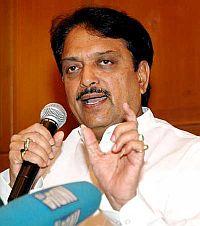 The Nationalist Congress Party's seat-sharing with the Congress in Maharashtra could turn out to be a ticklish task with Union Minister Vilasrao Deshmukh contending that it should reflect the Lok Sabha election results in the state.
Deshmukh, a known detractor of NCP chief Sharad Pawar, also said it was a "settled rule" in Congress that it does not project a chief ministerial candidate in any assembly election.
"The seat-sharing with the NCP should take into account the latest Lok Sabha results," Deshmukh said in an interview to PTI, hinting at the fact that the Congress was way ahead in electoral strength than Pawar's party.
In the last Lok Sabha elections, Congress had raised its tally to 17 seats while that of NCP had declined to eight, prompting demands from a section of the Congress, including Deshmukh, that the Congress should follow the Uttar Pradesh pattern in Maharashtra by going solo.
The seat-sharing in the last assembly polls was 166 for Congress and 122 to NCP in the 288-member House.
The senior Congress leader ruled out any truck with Raj Thackeray's Maharashtra Navnirman Sena in the post-poll scenario, asserting that "ideologically we are poles apart."
At the same time, he underlined the need to take the RPI groups, which are in the unity mode, on board to avoid "division of secular votes."
Deshmukh, who has been Chief Minister of the state for over eight years, admits that the drought situation, swine flu and the price rise have become the "latest difficulties" ahead of the polls but felt that they would be overcome.
A known votary of Congress going it alone in the assembly polls due by October, Deshmukh insisted that "no final view" has been taken by the Congress high command on the issue of alliance with NCP but the same was possible this week.
"My argument on the alliance issue is over. I am waiting for the final decision of the high command. I will abide by the decision," said Deshmukh, who is heading the election management committee of the Congress for the state.
He steered clear of questions whether the issue of reservation for the Maratha community would be included in the poll manifesto. The issue has created a controversy with a section of the OBCs voicing opposition to the move.
Deshmukh also evaded queries on what would be the main issues and poll plank of the Congress at a time when the Bharatiya Janata Party-Shiv Sena is getting its act together to take on the ruling coalition, in power for nearly ten long years.
He dismissed suggestions that the Congress-led coalition in Maharashtra was carrying the burden of anti-incumbency. The Union Minister also conceded that power will be an issue, but expressed confidence that the problem of load-shedding would be a thing of the past by 2012.
Image: Ideologically, Cong is poles apart from MNS, says Vilasrao Deshmukh