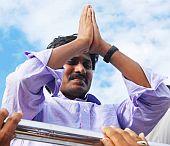 YS Jaganmohan Reddy, who has emerged as one of the main contenders for the chief ministership after his father and late Andhra Pradesh Chief Minister YS Rajasekhara Reddy's death, has urged his supporters to immediately stop their campaign to project him as the successor.

"This is not the time or occasion (for such activities)," he said.
Thirty-six-year-old Jagan, who along with his mother and other family members returned to Hyderabad on Sunday after performing the last rites of his father in home town Pulivendula, issued a statement urging his supporters to remain calm, exercise restraint and leave the decision to the Congress high command.
He expressed his disapproval of party leaders and workers rushing to the media, organising signature campaign, using banners and placard demonstrations in his favour.
"Like my father, I am duty bound to be a loyal and disciplined Congress worker. We are in mourning with deep heart. As a disciplined soldier of the Congress, it gives pain to the soul of our beloved leader," he said.
"Every Congress worker knows it is the tradition of our party to leave the decision of leadership to the high command and our beloved leader Sonia Gandhiji. Our high command knows Sonia respects the public perception and feelings of lakhs of Congress workers and she knows too well what is good for all of us and what is good for our state and people. I request you to await her decision on the issue of leadership and also urge you to abide by the decision."
Jagan expressed hope that Congress president will take a decision 'in a way that Dr Rajasekhara Reddy's ideals, mission and zeal would not be compromised in any manner'.
"I humbly appeal to you to be strong and courageous; I am with you in these trying times, just as you are with me," Jagan said.
Jagan, on behalf of his mother Vijayalakshmi and entire family, expressed 'deepest sense of gratitude to millions of people who have shared our sorrow and grief in this hour of greatest tragedy'.
Recalling his father Jagan said that he always used to say that his dream was to wipe every tear from every eye.

"He sincerely tried to do his best in the accomplishment of this most difficult task. We all have a responsibility, as true followers of his legacy, to work towards fulfilling his unfulfilled dream. We cannot afford to lose our heart and become panicky. We have to somehow summon courage and maintain calm and composure and pay our silent and respectful homage to him."
Referring to the people committing suicides and dying of shock, Jagan said, "On behalf of my family, I request you with folded hands, to desist from the extreme actions of committing suicides. Your life is extremely important to us. It is but for all of you and your love and affection, your sympathy and admiration, my father would not have been what he was."
Earlier in the day, the vociferous lobby campaigning in favour of Jaganmohan was pushed to the back foot. The informal meeting of the Congress legislature party, which was called to discuss the issue of succession and installing Jaganmohan in place of his father was abruptly called off after the party general secretary Veerappa Moily expressed high command's dissatisfaction with the campaign.
Even the silent rally, which was to be taken out from the Andhra Pradesh legislative assembly to the official residence of the chief minister was called off, after the organisers received a message from KVP Ramachandra Rao, the close friend and advisor of YSR. But it did not stop the overenthusiastic MLAs to indulge in slogan shouting in favour of Jagan.
Consequent to the signals from Delhi, the condolence meeting at YSR's official residence became a low-key affair with no speeches. However, after Chief Minister Rosaiah left the place, some ministers and MLAs discussed a new strategy of carrying on the campaign cautiously and without rubbing the high command the wrong way.
According to the sources Mallu Bhatti Vikramarka, government chief whip in the state assembly, who was instrumental in calling the informal meeting of MLAs received a message from Delhi sternly warning him against pressing ahead with it.
The message that high command was not happy with the unseemly haste of the pro-YSR group in raising the demand to make Jaganmohan Reddy the next Chief Minister came soon after the Congress president Sonia Gandhi, Veerappa Moily and other leaders returned to New Delhi from Hyderabad after paying their respects to YSR.
What upset many senior leaders was the fact that while Sonia was moved to tears while consoling YSR's widow Vijayalakshmi and was personally in a deep shock over the loss of a trusted lieutenant and a pillar of strength of the party, some state leaders including ministers and legislators approached her with a letter demanding that Jagan be made the Chief Minister. "Sonia must have shuddered over this undignified haste," said a senior leader seen as a critic of YSR.
Sources said that it was reflection of this anger that a clear message was sent to pro-YSR lobby that the high command will not entertain any public demands at this juncture and the issue will be taken only after the end of mourning period. Given the clout and command he enjoys both with the YSR family and the legislators, KVP Ramachandra Rao has been advised by the central leadership to reign in the overenthusiastic elements.
The fact that the shouting brigade was trying to belittle the Chief Minister Rosaiah repeatedly has also not gone down well with the high command. The state Congress president D Srinivas has also been sidelined in this whole process till now.
Two pro-Jagan ministers N Raghuveera Reddy and Botsa Satyanarayana met D Srinivas and urged him to take the initiative with the high command to pave the way for installation of Jagan as the next Chief Minister. But Srinivas politely excused himself saying he will give his advise only if high command seeks it.
But despite the caution still the party was witnessing no hold barred exchanges among the senior leaders. While veteran Dalit leader G Venkataswamy has come out in support of Jaganmohan Reddy, backward class leader Hanumantha Rao and Keshav Rao are siding with the high command.
"The people want Jagan to become the Chief Minister. After the death of Indira, was an inexperienced Rajiv not made the prime minister? The position makes the person experienced," said Venkataswamy, who served in the cabinets of Indira, Rajiv and PV Narasimha Rao.
But V Hanumantha Rao breathed fire on the comparison between Rajiv Gandhi and Jaganmohan Reddy. "This is belittling Rajiv Gandhi, he said pointing out that Indira Gandhi and Rajiv Gandhi's family had made great sacrifices for the nation.
K Keshav Rao joining the debate said that the claim that Jagan had the backing of 123 MLAs was meaningless. "What is bigger? Support of 123 MLAs or Sonia Gandhi's decision," said Rao, who also fancies his chances of becoming the chief minister.
Why the haste?
But the question is why the pro-Jagan lobby was in such haste to have him anointed as the leader? The insiders say there were varied interests behind the campaign, including a very strong caste factor.
"Though Congress has traditionally been dominated by the Reddy community in Andhra Pradesh and most of the Chief Ministers right from Neelam Sanjiva Reddy and Brahmananda Reddy coming from this caste, YSR was the most aggressive and open in patronising and promoting the Reddy interest both in politics and business," said a long time observer of Congress affairs.
The Reddys are keen to continue to maintain their domination and hold over Congress.

The population of Reddys is around 5% but they have always got a lion's share of party tickets. Consequently of the 156 Congress MLAs, 55 are Reddys and out of 33 Congress MPs, 11 are Reddys. They are seeing Jaganmohan Reddy as the only man, because of his surname, who can ensure the status-quo in terms of caste domination and also acceptability among the masses because of YSR's charisma. The individual ministers and legislators were also trying to be in good books of Jagan and his coterie to ensure their own survival and prosperity at later stage.
Similarly, the strong business lobby including the real estate companies, many of them held by the Reddys want continuity of policies and programs of YSR. They were happy with YSR for varied reasons, biggest of them his success in taking wind out of the demand for Telangana state. They are apprehensive that any deviation from YSR's strategy will only enable the pro-Telangana lobby to become active once again.
Options before high command
Unhappy and dissatisfied it may be with the "Jai Jagan" campaign, the party high command cannot completely ignore the fact that Jagan has the support of most party legislators. But the central leadership sees Jagan's complete lack of political experience as a problem. He has just made an electoral debut and was elected to Lok Sabha for the first time in May last.

Secondly, it also does not want to be seen buckling under pressure and emotional blackmail of any group. Thirdly, it will also have to accommodate the feelings and sentiments of other castes, specially the BCs whose support is crucial in the long-term perspective for the party.
For the present it appears that Sonia Gandhi will play it safe and continue with the more experienced and time tested leader like Rosaiah and buy time in the name of larger consultation and eliciting opinion. Though several other names, including union minister Jaipal Reddy, are doing rounds, but they don't seem to have much of a chance.
A team of central leaders led by Veerappa Moily are likely to arrive in Hyderabad soon to start the process of consultations and buy time.