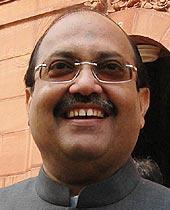 In a press conference held in Lucknow on Thursday, social activist and lawyer Shiv Kant Tripathi, who has accused Amar Singh of being involved with a Rs 500 crore fraud, questioned the source of the Samajwadi Party general secretary's massive wealth.
"Amar Singh was a man worth just about Rs 17 crores in 2002 – 2003. All I wish to ask is, how could he amass wealth to the tune of Rs 500 crores in the seven-year period since then. Where did he get his crores from," Tripathi queried.
Accusing the high-profile politician of making a quick buck through the systematic merger of pocket companies used for siphoning off funds from one company to another, Tripathi said, "Amar Singh used fraudulent means to first bring about the merger of 640 companies into 43 companies that were eventually merged into six other companies."
He said, "Eighty per cent of the shares of these six companies were held by Amar Singh, his wife Pankaja Singh and his close friend actor Amitabh Bachchan".
He went on to add, "What needs to be probed is the fact the companies that were merged, made huge profits running into crores, when their business operations were negligible."
Not impressed by Uttar Pradesh government's decision to hand over the FIR, lodged by him against Amar Singh, to the Economic Offences Wing of  the UP police, Tripathi said,  "I have reason to believe that the UP government is, for some reason, trying to indirectly help Amar Singh. Otherwise, why did the state government pass on  my FIR to the Kolkata police. on the plea that the companies referred to in my complaint were based in that city."
He added, "It was only after the Kolkata cops sent the case back to Lucknow that the officials here decided to refer it to the EOW, which is full of officers known for their proximity with the erstwhile Samajwadi Party regime."
'The state government should ensure that the probe is not entrusted to anyone likely to be influenced by SP leaders. It should also be made into a time-bound inquiry," said Tripathi.