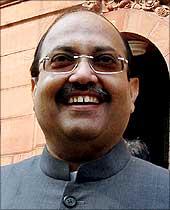 The Allahabad High Court on Saturday turned down a plea to initiate criminal proceedings against Samajwadi Party general secretary Amar Singh.
The petition was moved by Shiv Kant Tripathi, a lawyer, who had earlier this week lodged a FIR in a Kanpur police station, accusing Singh of committing a huge fraud through his alleged money laundering operations, during his stint as the chairman of the Uttar Pradesh Development Council.
Tripathi had accused the SP leader of siphoning off a lot of black money, in the name of three dozen companies floated by him, operating under his own name and that of his wife Pankaja Kumari Singh.
Singh's close friend actor Amitabh Bachchan was one of the beneficiaries of these companies.
However, the UP government chose to forward the FIR to the Kolkata police, arguing that all the companies mentioned in the FIR were registered in Kolkata.
Interestingly, the Kolkata police lobbed the FIR back in the UP government's court on Thursday, claiming that the cases could not be registered in Kolkata as the cause of action arose in UP.
While the UP police is yet to take any further action in the case, Tripathi sought the intervention of the Allahabad High Court, to initiate necessary legal  proceedings. He reportedly attached 1700-pages worth of evidence to support his plea. 
The HC bench comprising Justice Sunil Ambwani declined to entertain the petition on the ground that it was 'premature'. He ruled that since the FIR was still pending before the UP police, the court's intervention was unwarranted at this juncture.