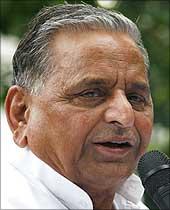 Samajwadi Party president Mulayam Singh Yadav on Friday blamed Uttar Pradesh Chief Minister Mayawati for the first information report registered against his man Friday Amar Singh and his bosom pal superstar Amitabh Bachchan in Kanpur on Thursday.
"Such a frivolous case against such prominent people could not have been lodged without the connivance of the government, and I have reason to believe that the chief minister too has a hand in it," Mulayam told a press conference on Friday evening.
Terming the FIR registered under the provisions of the Money Laundering Act and the Prevention of Corruption Act as a "conspiracy", he said, "There could be no doubt that the whole thing was politically motivated."
Flaying the Mayawati government, the SP chief said, "Mayawati had played dirty against persons associated with the Samajwadi Party earlier too, but eventually she failed in her designs."
Virtually throwing the gauntlet at the UP chief minister, Mulayam said: "I challenge these petty conspirators to try whatever they can, but they will not be able to cause the least harm to Amitabh Bachchan or Amar Singh, whose stature is far too tall to get affected by such acts."
Mulayam has also urged the prime minister to intervene and initiate "appropriate punitive action against all those responsible for hatching this conspiracy".
Recalling how the Bahujan Samaj Party leadership had earlier tried to hound him, the SP chief said, "Mayawati got as many as 149 cases lodged against me in one of her earlier stints as chief minister, but not one could pass the judicial scrutiny, which clearly reflects the political motivations behind such moves."
Sticking to his guns, the complainant Shivkant Tripathi ruled out any political hand behind the move.
"I am a social activist and chose to take up this issue because it involves a major fraud by people who are icons and political bigwigs," he told media persons in Lucknow.
 "If I have lodged the case; it was not without supporting evidence which runs into over 1,700 pages, which also shows the stakes Amitabh has in the whole affair."
Maintaining that Amar Singh had juggled with balance sheets to siphon away lots of black money, Tripathi said, "If Amar Singh's political mentors were so confident that no fraud had been committed, why were they so opposed to an open investigation?"
Image: Samajwadi Party chief Mulayam Singh Yadav