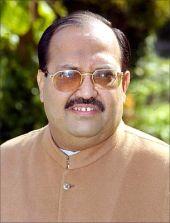 The Uttar Pradesh government has handed over the case against Samajwadi Party leader Amar Singh and others for alleged financial fraud amounting to Rs 500 crore to the Economic Offences Wing of the state police, official sources said.
"On the recommendation of Kanpur police, the Director General of Police Karamveer Singh had forwarded a letter to the state government to transfer the case to EOW, which was approved late last night," a senior official said.
He said that citing financial matters, the Kanpur police had forwarded its recommendation to the DGP headquarters in Lucknow on Tuesday.
"The recommendation was made as the case involved several companies and alleged financial irregularities by its shareholders. It was stated that as specialised investigation would be required, the case should be transferred either to EOW or any other agency," he said.
He said that the case diary and all the related documents had been taken over by the EOW sleuths.
On October 15, Shivkant Tripathi had lodged a first information report with the Babupurwa police station in Kanpur against Singh and others under various sections of the Indian Penal Code, Prevention of Corruption Act and Prevention of Money Laundering Act, accusing the SP leader of amalgamating companies for converting black money into white.
Singh has denied the charges against him, saying the FIR against him was registered at the behest of state authorities.
Image: Samajwadi Party leader Amar Singh