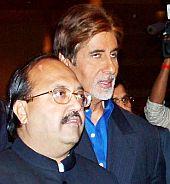 Samajwadi Party general secretary Amar Singh made it amply evident in Lucknow on Monday that it was his threat to expose Uttar Pradesh Chief Minister Mayawati that prompted her to sit pretty on the First Investigation Report registered in a Kanpur police station against him.
Moved by local lawyer Shiv Kant Tripathi, the FIR accused Singh of playing a financial fraud to the tune of Rs 500 crores through a smart amalgamation of his own pocket companies. Singh, however charged Mayawati of masterminding the FIR through Tripathi, whom he accused of a 'shady' past.
He also sought to blame one of the secretaries to UP chief minister as well as a ruling Bahujan Samaj Party MP and a minister for 'going out of the way' to get the FIR registered.
Earlier in the day, he gave a memorandum to UP Governor B L Joshi , seeking a probe by a Central agency into what he termed as a 'criminal conspiracy, masterminded by Mayawati and his close associates' against him.
The high profile SP leader told mediapersons, that if Mayawati dared to do anything against him, he would not let her live in peace and expose all the skeletons in her cupboard.
Through a simile, he went to the extent of equating himself to Lord Hanuman and warned, "Let Mayawati know that if she did anything against me, then this Hanuman will set her Lanka afire."
Even as he went about firing salvos at Mayawati for her alleged misdeeds and misuse of office, Singh was emphatic about repeatedly proclaiming, "I am clean and there is no need for any investigation into the allegations leveled against me or against the companies with my shareholdings."
The tenor of his 90-minute long press conference was aimed at proving himself 'non-guilty' on every count. What he tried to impress upon mediapersons was that anything and everything that was raised against him or his associates, including mega star Amitabh Bachchan, was 'politically motivated.'
"Even in the past, Mayawati had hounded me several times by trying to frame me in different cases," he alleged, but hastened to point out how he had come out clean every time.
Refuting the allegations of siphoning of funds from one pocket company to another through an 'official merger,' he claimed, "There is no violation of law in the merger of different companies into certain companies controlled by me; and each of the operations have been duly wetted by the Company Law Board, the Income Tax department as well as the Kolkata High Court."
Replying to questions, he could not say why he was opposed to an investigation into the allegations by an independent agency. "What is the need for any further probe when the concerned statutory agencies have already ratified everything," he asked angrily.