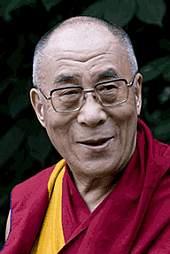 The proposed visit of the Dalai Lama to Arunachal Pradesh next month is yet to get clearance from the external affairs ministry, according to Arunachal Pradesh Chief Minister Dorjee Khandu.
Addressing his first press conference after taking oath as chief minister for the second time, Khandu said he got to know about the receipt of a communication by the Tawang deputy commissioner from Dharamsala on the Tibetan spiritual leader's weeklong trip.
But the state government has not yet received any communication from the Central government, though it is expected any moment, he said.
"We are expecting it any moment," Khandu said when asked if the Dalai Lama's visit had got the clearance from the external affairs ministry.
However, the newly elected Member of Legislative Assembly of Tawang, Tsewang Dhondup, said preparations to welcome the Dalai Lama have been on for almost a month.
Khandu observed that China should not object to the visit of the spiritual leader who has been in India for the last over 50 years as a refugee and New Delhi should also not give importance to such objections.
"China should not also raise objection to a visit by the prime minister and other leaders, as there was no border with China. Ancient records available at the Tawang monastery prove that Tawang had border with Tibet only," he said.
Image: Dalai Lama