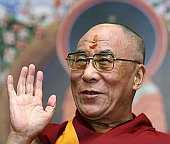 Amid the Sino-India verbal spat over Arunachal Pradesh, China on Tuesday said it was "greatly concerned" by the Dalai Lama's [
Images
] planned visit to the state even as it rapped the exiled Tibetan spiritual leader for indulging in "anti-China separatism."
China is "firmly opposed" to a planned visit to Arunachal Pradesh by the Dalai Lama, Foreign Ministry spokesman Ma Zhaoxu said in Beijing [ Images ].
"China's position on so-called Arunachal Pradesh is consistent and clear and we firmly oppose the Dalai Lama's visit to the region," Ma said, indicating Beijing's stand that Arunachal Pradesh is a disputed area.
"China is greatly concerned over the news. We believe this further exposes the Dalai Lama's nature of anti-China separatism, as is known to all," he said when asked to comment on the Tibetan Nobel laureate's planned visit to Arunachal Pradesh next month.
The Dalai Lama, who fled to India [ Images ] in 1959 after China crushed an uprising in Tibet [ Images ], is denounced by Beijing as a "splittist" despite his calls for genuine autonomy rather than full independence for his Himalayan homeland.
India has said that the Dalai Lama is free to visit any part of the country.

Ma's statement on China's opposition to Dalai Lama's visit to Arunachal Pradesh comes a week after Beijing strongly protested over Prime Minister Manmohan Singh's [ Images ] visit to the state on October 3.
"We demand the Indian side address China's serious concerns and not trigger disturbance in the disputed region so as to facilitate the healthy development of China-India relations," Ma had then said.
"China is strongly dissatisfied with the visit to the disputed region by the Indian leader disregarding China's serious concerns," he had said ten days after Dr Singh had visited Arunachal Pradesh for an election rally.
India has rejected China's stand on Arunachal Pradesh and has asserted that it is an integral part of the country. China's comments on Singh's visit had significantly come on a day when the state went to polls to elect a new Assembly.

Rejecting Chinese objections, External Affairs Ministry spokesman Vishnu [ Images ] Prakash had said it was an established practice in India that leaders visit states where elections are held.
India maintains that China is illegally occupying 43,180 sq kms of Jammu and Kashmir [ Images ]. On the other hand, China accuses India of possessing some 90,000 sq km of Chinese territory, mostly in Arunachal Pradesh.