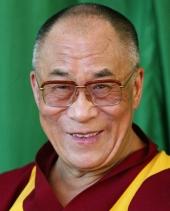 China has opposed the planned visit of Tibetan spiritual leader Dalai Lama to Arunachal Pradesh and voiced 'strong concern' over the November trip.     
"China expresses strong concern about this information. The visit further reveals the Dalai clique's anti-China and separatist essence," the Washington Post reported on Friday quoting Reuters.
"China's stance on the so-called Arunachal Pradesh is consistent. We firmly oppose Dalai visiting the so-called Arunachal Pradesh," Jiang Yu, the spokeswoman for China's Foreign Ministry, was quoted as saying in the report.
The Dalai Lama, a Nobel Laureate, plans to visit Arunachal Pradesh in the middle of November though details are yet to be worked out.
Last year, Arunachal Pradesh Chief Minister Dorjee Khandu visited Dharamsala in Himachal Pradesh to invite the Dalai Lama to visit Tawang to inaugurate a hospital. The Dalai Lama has contributed Rs 20 lakh for its construction.
Tawang is home to one of the most sacred Buddhist monasteries. The Dalai Lama passed through this region when he fled into exile from Tibet in 1959. The sixth Dalai Lama was also born in Tawang in the 17th century.