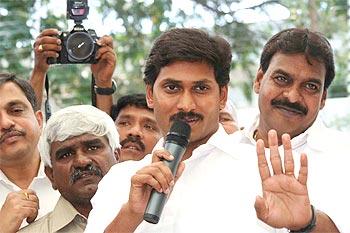 Congress Member of Parliament Y S Jaganmohan Reddy, son of late Andhra Pradesh Chief Minister YS Rajasekhara Reddy, has asserted that he had never asked for the post of the chief minister and will accept whatever decision party President Sonia Gandhi takes.
Addressing his first press conference since the death of his father in a helicopter crash last month, Jagan however admitted that if he was given an opportunity to succeed his father, he would have treated it as a 'God-sent' opportunity. "Which son would not accept the opportunity to fulfill his father's incomplete work?" he asked.
Surrounded by a large number of state ministers, legislators and other leaders, Jagan said that he was only 36 years old and there was a lot of time to aspire for the post of chief minister. "One day the post will definitely come if we remain close to the people and work hard to ensure that all the programs launched by YS Rajasekhara Reddy are fulfilled," he said.
About his meeting with Sonia Gandhi in New Delhi on Thursday, Jagan said it was purely a personal meeting between the party president and an MP. "It would not be gentleman-like on my part to talk about it," he said urging the media not to speculate about what transpired in the meeting. He said the speculative reports in the media had pained him.
He reiterated that he had full confidence in 'Madam' and will accept whatever decision she takes. Asked about his future role in the party, he said, "that would be decided by my Madam."
Though he gave a call to all his supporters including the ministers and legislators to strengthen the hands of Sonia Gandhi and also to the state government, he did not hesitate to take a swipe at Chief Minister K Rosaiah. He indicated that high command may also think of installing another chief minster when he repeatedly said that whoever is the chief minister, he will cooperate with him.
"That I am going to definitely do," he said when asked whether he will keep a watch on the government. "Not only me but every minister, legislator and even the grassroot level worker will also watch the government to see that the programs launched by YS Rajasekhara Reddy are fulfilled."
He said that it was a fact that the promise to give 30 kgs of rice at Rs 2 per kg was not yet fulfilled and the conditions were not ripe to increase the supply of free electricity to the farmers from seven hours to nine hours.
On another question Jagan said that it was not for him to rate Rosaiah's performance.
Jagan's public statement is being seen as an indication that Sonia Gandhi had managed to settle the issue of Andhra Pradesh leadership in her hour-long discussion with Jagan and Rosaiah will remain in his post while Jagan will be given some other responsibility.
Image: Y S Jaganmohan Reddy addressing the press conference in Hyderabad on Friday. Photograph: SnapsIndia