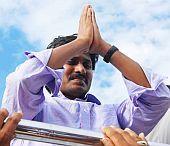 Following is the statement issued by late Andhra Pradesh Chief minister's son YS Jaganmohan Reddy on Sunday, urging his supporters to immediately stop their campaign projecting him as the successor:

My mother Smt Vijayalakshmi, my sister Smt. Sharmila and our other family members join me in conveying our deepest sense of gratitude to millions of people who have shared our sorrow and grief in this hour of greatest tragedy in the passing away of my illustrious father, Dr. Y.S. Rajasekhara Reddy. We are really moved by the extraordinary affection and love shown by all of you, but for which it would have been even more difficult for us to cope with this painful situation. We are greatly pained to see hundreds of people losing their lives unable to bear the untimely demise of their most beloved leader. We can understand your feelings as we ourselves are in the same situation. But the best way of paying your tribute for the departed soul is by carrying on his mantle and by making sure that all his programmes and ideologies are carried on and completed.

He always used to say that his dream was to wipe every tear from every eye. He sincerely tried to do his best in the accomplishment of this most difficult task. We all have a responsibility, as true followers of his legacy, to work towards fulfilling his unfulfilled dream. We cannot afford to lose our heart and become panicky. We have to somehow summon courage and maintain calm and composure and pay our silent and respectful homage to him. On behalf of my family, I request you with folded hands, to desist from the extreme actions of committing suicides. Your life is extremely important to us. It is but for all of you and your love and affection, your sympathy and admiration, my father would not have been what he was. 

I would like to personally thank Smt Sonia Gandhi ji, Dr Manmohan Singhji, Sri Rahul Gandhiji, the Governor of AP, Chief Ministers of various states, Union Cabinet Ministers and thousands of other senior leaders of all political parties that have come to Hyderabad and Idupulapaya to pay homage to my father and to console us.
As I and our other family members are grieving for the greatest loss in our life, we cannot but help in recalling the outstanding love and affection shown by Late Smt Indira Gandhi, Late Sri Rajiv Gandhi and Smt Sonia Gandhi for my father, but for whose unstinted support at every part of his career, it would not have been possible for my father to scale the heights he has reached. It is really a tribute to Late Sri Rajiv Gandhi that he could spot talent in my father and it was late Smt Indira Gandhi, who appointed him at the age of 33 year as the President of APCC. It is equally important to note that Smt Sonia Gandhiji had chosen my father as President of APCC in 1998, as Leader of Opposition in 1999, as Chief Minister of Andhra Pradesh in 2004 and 2009.  We are particularly grateful to Smt Sonia Gandhi for her immense support and help to my father at all crucial times. She stood like a rock behind my father and supported him wholeheartedly throughout his career.
It should be said to the credit of my father that he too carried on the legacy of Smt Indira Gandhi and Sri Rajiv Gandhi in full measure and made it no secret that his greatest source on inspiration for all developmental and welfare programmes was late Smt Indira Gandhi. It is providential that my father also laid down his life in the call of the duty, on his way to inaugurate yet another programme for the benefit of the common man, in the true legacy of his benefactors.  
During the last meeting of the Party held at Gandhi Bhavan on 27th August 2009, my father clearly mentioned that his main task and dream is to make the Congress Party to form the government on its own in 2014 general elections and to make Sri Rahul Gandhiji as the Prime Minister of the country.


We are also grateful to lakhs of Congress leaders and the cadre in our State for whom my father had the greatest affection. But for your support, it would not have been possible for my father to rebuild the Congress Party in the State and to win many a battle including those two general elections. I can understand your feelings and emotions for your leader. Some of you have worked very closely with him and helped him in implementing the largest number of welfare programmes to benefit every citizen in the State. I know that you are all passionately attached to him and want to carry his mantle and fulfill his unfulfilled dreams. I am grateful to all of you for these good feelings.
It came to my notice that some of the Party Leaders and workers were rushing to the media and suggesting their choices for the successor of my father. I request every one with folded hands to stop such activities by going to the media, signature campaigns, using of banners, placards demonstrations etc., for my leadership as the successor of our beloved departed leader as this is not the time or the occasion. On my part, like my father, I am duty bound to be a loyal and disciplined Congress worker. We are in mourning with deep heart. As a disciplined soldier of the Congress Party it gives pain to the soul of our beloved leader.
We are all members of a big Congress family, which has a long history and tradition of 125 years. It is our good fortune to be members of this great family that has not only brought freedom for our country but also institutionalized democracy in our country.   Every Congress Worker knows that it is the tradition of our Party to leave the decision of leadership to the high command and our beloved leader Smt Sonia Gandhiji.
Our high command knows and more particularly our beloved leader Smt Sonia Gandhi respects the public perception and feelings of lakhs of Congress workers and she knows too well what is good for all of us and what is good for our state and people. I request you to await the decision of Smt Sonia Gandhi, President, AICC on the issue of leadership and also urge you to abide the decision.

Our beloved leader and President of AICC, Smt Sonia Gandhiji will take a decision in such a way that Dr Rajasekhara Reddy's ideals, mission and zeal would not be compromised in any manner.
I humbly appeal to you to be strong and courageous; I am with you in these trying times, just as you are with me.  
(YS JAGANMOHAN REDDY)