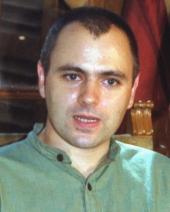 Jammu and Kashmir Chief Minister Omar Abdullah on Thursday welcomed the statement by Union Home Minister P Chidambaram seeking dialogue 'with the representatives of all shades of opinion in the state'.
In a statement, the chief minister said that 'this will help work out a solution to the Jammu and Kashmir centric problems amicably across the table'.
Omar said that there was also a need to resume the Indo-Pak dialogue which has been stalled since the terror attack on Mumbai last November.
He said that violence is never a solution to any problem. "We have experience of about 20 years of gun culture and we know that the gun only adds to miseries without resolving any issues," he said.
The chief minister added that 'peace is must for political and economic stability'.
"We are all equal stakeholders of peace in the sub-continent, especially in Jammu and Kashmir, and we have to contribute and create a conducive environment to discuss all issues across the table and find out a solution," he added.
Opposition Peoples Democratic Party president Mehbooba Mufti, in a statement, described the development as 'a breath of fresh air into a scenario that was marred by negative rhetoric for a long time'.
Mufti said the commitment of the Centre to work for a peaceful resolution of the Kashmir issue 'adds a new and positive dimension to the Kashmir discourse'.
Mufti claimed the home minister's description of Jammu and Kashmir as 'a place with a unique history and unique geography that would need a unique solution' was in line with the thinking and efforts of the PDP'.
"Chidambaram could not be more accurate in outlining the contours of the problem and its possible solution when he said that Jammu and Kashmir would 'need its own solution in view of the peculiar background of its problems and no other arrangement could serve a model for the state'," Mufti said.
"The vision of self-rule presented by the PDP takes these factors into consideration and provides a solution to the external and internal problems of Jammu and Kashmir, aiming at the virtual unification of the pre-partition state, without impinging on the territorial integrity and sovereignty either of India or Pakistan," she said.