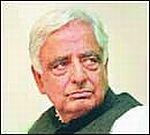 Claiming that Jammu and Kashmir had suffered on various fronts in the wake of partition, Peoples Democratic Party patron Mufti Mohammad Sayeed on Thursday said self-rule could, to a large extent, neutralize its negative fallout.
"While it would effectively remove the sense of siege that gripped the state post 1947, it would also lead to a virtual reunion of the two sides seperated by LoC", Mufti said addressing a one-day workshop on the self-rule formula at the party headquarters in Srinagar on Thursday.
The workshop titled 'Is Self-Rule A Way Forward to the Resolution of Jammu and Kashmir Problem," was part of the party's awareness campaign about its political, economic and developmental agenda.
Mufti said self-rule formula was grounded in contemporary realities of the subcontinent but takes into account the historical context of the problem without getting bogged down by the decades old baggages of hatred, wars, violence, political deceit and unkept promises.
Expressing concern over the internal condition of Pakistan, Mufti said the condition in the entire subcontinent can be stable only by resolving the Kashmir issue.
"For us friendship between Indian and Pakistan is mandatory. I request the government of India to carry forward the reconciliation process started by former prime minister Atal Bihari Vajpayee to its logical conclusion," Mufti said, adding that the peace process started by Vajpayee was "irreversible."
Prime Minister Dr Manmohan Singh is expected to take measures that are aimed not just to secure the gains of the peace process so far but widen its scope to make a real difference to the lives of people, he said.