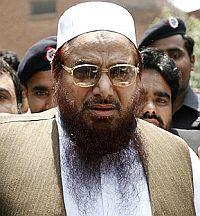 Banned Jamaat-ud-Dawa chief Hafiz Mohd Saeed has joined the debate over conditions attached to US aid to be provided to Pakistan, charging that clauses asking the country to take action against militant groups had been included due to "Indian pressure".
Saeed, the alleged mastermind behind the Mumbai terror attacks, told a congregation at Friday prayers at the JuD mosque at Chauburji in Lahore that the US had included clauses in the Kerry-Lugar bill asking Pakistan to take action against militant groups in Quetta and Muridke "due to pressure from India".
He, however, claimed the people would not allow this to happen.
"The people of Pakistan and the army will not allow anyone to launch attacks on Quetta or Muridke. We will resist them," he said. The JuD has its headquarters at Muridke, about 40 km from Lahore.
Saeed, also the founder of the Lashkar-e-Tayiba, demanded that the government should not offer a hand of friendship to India as it is an "enemy and will remain so".
He also lashed out at the Pakistan government for "enslaving" the country by "accepting the tough" conditions in the Kerry-Lugar bill. "Reject the bill and trust god," he said.
Saeed appreciated the military's decision to express concern over the Kerry-Lugar bill. The army's top commanders said earlier this week that the clauses in the bill could affect Pakistan's national security interests.
The JuD chief has stepped up his criticism of India and the US since police in Faisalabad registered two first information reports against him under the Anti-Terrorism Act for inciting people to wage jihad or holy war against infidels and for seeking funds for his banned group.
Though police officials gave an impression last month that Saeed had been placed under house arrest in connection with these two cases, it later came to light that no formal order had been issued for his detention.
Police officials have also said that law enforcement agencies had only enhanced Saeed's security in view of reported threats to him.
Though Saeed was put under house arrest in December 2008 after the UN Security Council declared the JuD a terrorist group, he was freed on the orders of the Lahore high court in June.
Image: JuD chief Hafiz Saeed