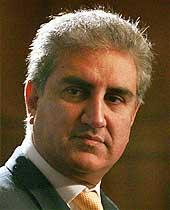 Amid India's insistence that it should bring to book perpetrators of the 26/11 attacks, Pakistan on Thursday said the groups responsible for the brazen assault on Mumbai were not its "friends" and believes that these outfits have to be "checked, curtailed and shut".
Foreign Minister Shah Mehmood Qureshi, who is on a visit to Washington, DC, said his country's enlightened self-interest was to normalise and live in peace with India.
"Organisations that carried out the acts those results in Mumbai attack are certainly no friend to Pakistan because through those acts they not only killed people, they could have triggered off something more serious than that," he said in his address to Washington-based think-tank Council on Foreign Relations.
"We have to guard against that mindset. In the interest of stability and peace in the region, it is in the interest of Pakistan's enlightened self-interest to normalise and live in peace with India.
"The Government of Pakistan believes that these organisations have to be checked, curtailed and shut," Qureshi said.
India believes the terror outfit Lashkar-e-Tayiba carried out the attack on Mumbai that killed more than 180 people, including foreigners.
His comments assume significance in the wake of India's insistence that the composite dailogue process can be resumed only if Pakistan acts against the perpetrators of the Mumbai terror attacks.
Qureshi said Pakistan wanted an intensive dialogue between the South Asian neighbours without any conditions.
"It doesn't take much genius to understand that terrorist threats require more intensive dialogue between South Asian neighbours, accompanied by a sincerity of purpose and resolving disputes rather than pauses and conditionalities," he said.
As the region is facing serious threat from terrorism, he said it makes no sense that instead of pooling their resources to fight terrorism, they squander these to threaten the other.
"Instinctive reactions, coupled with hasty and unsubstantiated accusations, strengthen the very forces that we profess to defeat," he said.
"It is fine to move beyond the rhetoric. Each country has to stand up to terrorism and be counted. Cold War calculations to gain short-term advantages have no relevance in these times. Long-term interests of all countries of the region lie in promoting stability and work towards socio-economic uplift of the people of the region," Qureshi said.
In response to a question, Qureshi said the Indo-US civilian nuclear deal is discriminatory. "And when you sign agreements that are discriminatory in nature it does not help," he said in direct reference to the civilian nuclear deal with India, which was signed by then US President George W Bush last year.
Qureshi also said Pakistan would not give any "physical or political space" to any terrorist organisation in the country.
He said his government would get rid of terrorist safe havens and deny "physical, political and ideological space" to terror groups.
"We have no choice. For our own security and for the protection of our people, we have to get rid of these safe havens," he said.
Qureshi's remarks assume significance as the Pakistan army is on the brink of launching a major military assault on South Waziristan, a Taliban stronghold, located close to the border with Afghanistan.
Experience gained from military operations in Swat, the challenges of managing internally displaced population and the subsequent reconstruction and rehabilitation efforts serve as a template for further operations in the tribal region bordering Afghanistan, he said.
"Terrorists are in retreat, with their top leadership in Malakand and Swat either captured or killed. The leader of the Pakistani Taliban Baitullah Mehsud is dead. Taliban in the tribal region are in disarray. No single leader holds sway over disparate factions," Qureshi said.
Image: Pakistan Foreign Minister Shah Mehmood Qureshi