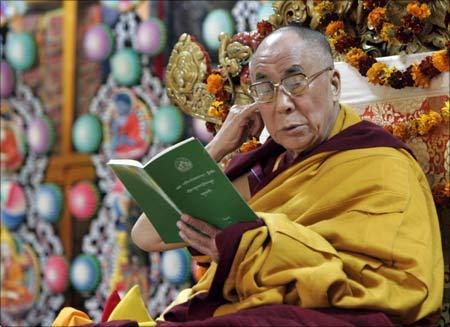 The Obama administration has made it clear that there has been no change in the United States' policy towards Tibet even as it decides to hold talks with Tibetan spiritual leader the Dalai Lama after President Barack Obama's visit to China scheduled in November.
This is for the first time since 1919 that the Dalai Lama would not be visiting White House during his stay in Washington. The Dalai Lama arrived in Washington on Monday on a five-day visit, during which he would be meeting key Congressional leaders.
"The US government thinks that he is an internationally revered religious and cultural figure. He's a Nobel prize laureate. The President has decided that he will meet with the Dalai Lama at a mutually agreeable time. I think that there was an announcement that it would be after his trip to China," the State Department spokesman Ian Kelly said.
Arguing that nothing much should be read into this, Kelly said: "I wouldn't necessarily read anything into the decision beyond what it is, is that we've decided to meet with the Dalai Lama because of our respect for his position, the fact that he is a revered spiritual leader."
Noting that the US position regarding China is clear, he said the Obama administration wants to engage China.
"We think China is an important global player. We also don't try and downplay some of the concerns that we have about China and some of our disagreements with China in the areas of human rights, religious freedom, and freedom of expression."
Photograph: Reuters 
Also Read: Eye on China, Obama defers meeting with the Dalai Lama